*This post may contain affiliate links. As an Amazon Associate we earn from qualifying purchases.
Rolex is a name synonymous with success. Slipping the crown faced Rolex bracelet around your wrist can feel akin to finally earning the keys to a kingdom of your own personal legacy. Whether you are seeking to purchase your first Rolex watch, or first of many, check out the Rolex Submariner Blue. Its remarkable design and features are a step above the rest.
Here we will discuss the Rolex Submariner Blue and the illustrious brand that created it. Further, we will compare this stunning timepiece with other Rolex models of varying price points.
About Rolex
Rolex is a luxury watchmaking brand founded in London and now based in Switzerland. Rolex is responsible for creating the first waterproof watch in 1926. It is a brand unlike any other when it comes to making watches. They are known as the iconic symbol of wealth in the luxury community. The signature Rolex crown logo says it all. Rolex is the king of all watches.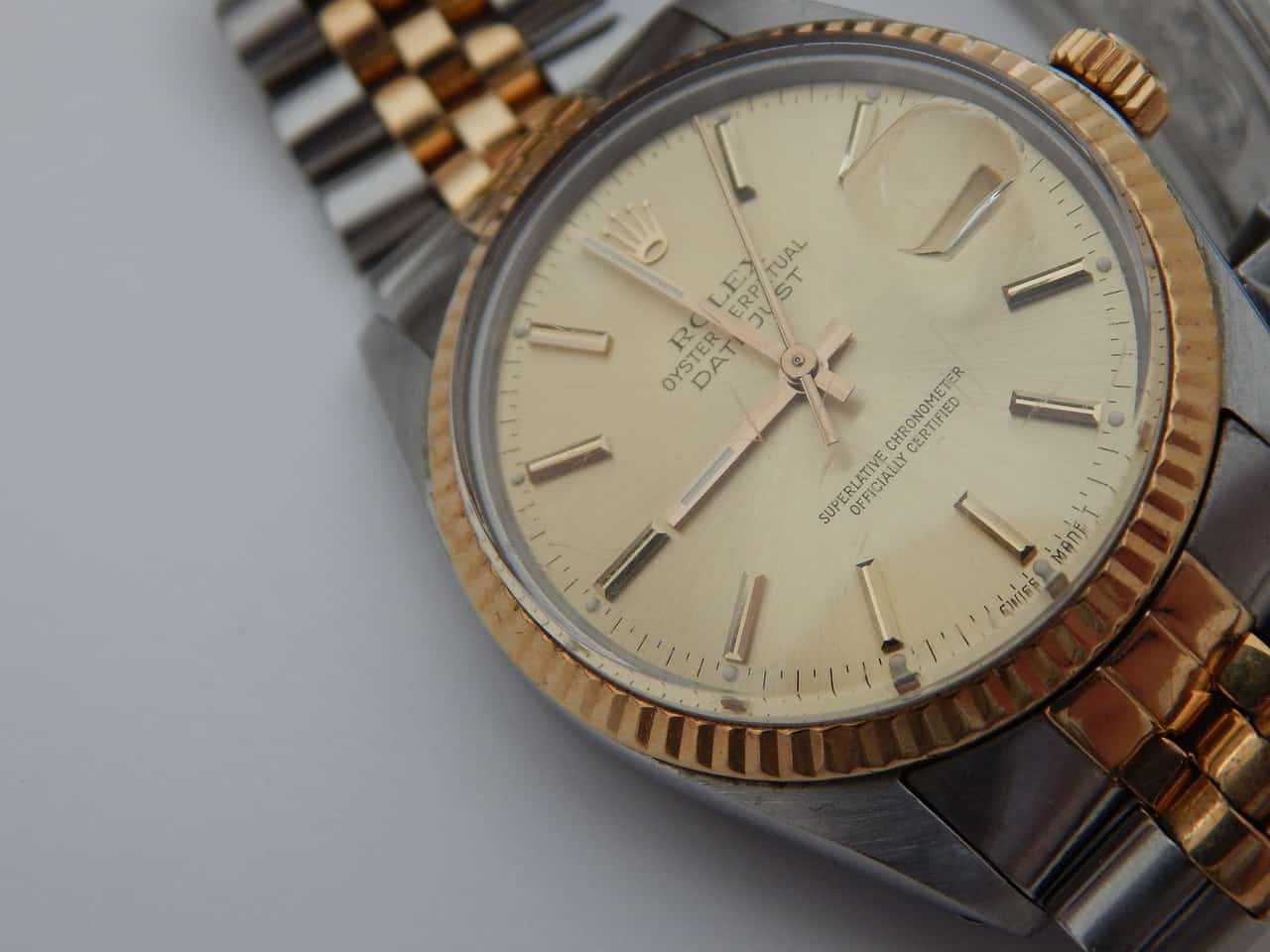 Rolex watches are made using the finest materials and last a long time. These watches are lauded for their durability, strength, and quality. Even though each Rolex product line is in an upper pricing tier for watches, the company produces watches in different price points ranging from about $$ to more than $$$. Some of the most expensive Rolex watches have been sold at auction for prices well into the millions. Rolex produces around one-million watches per year.
Taking Time
Each Rolex watch takes around one-year to make. Most mechanical pieces found within a Rolex are handcrafted and tested to perfection. The Rolex company uses machines to build some watch mechanisms, but they claim they only use machines when it can outperform a human.
For any watchmaking tasks that are better made with human hands, Rolex employs humans to do the work. Rolex is known for the stringent tests they impose on all of their watches and watch parts. These tests ensure the quality of the watch prior to its release and sale.  
All Rolex watches are checked multiple times in multiple ways. Rolex's rigorous testing measures may seem excessive to some, but owners of a genuine Rolex watch understand the importance of the company's dedication to quality. Rolex didn't become one of the most esteemed watchmakers in the world for nothing.
Rolex watches are made from 904L grade steel which is harder and more resistant to corrosion. Simultaneously, 904L steel is more difficult to work with.
In-House Production
The Rolex company is almost a machine by itself. The company doesn't outsource any of its production. In-house Rolex teams are responsible for designing, melting and shaping gold and platinum in a foundry, constructing watch parts and watches themselves, selecting and setting the finest gemstones, as well as conducting all product testing.
Rolex is a true independent industry leader for watchmaking. According to Bloomberg, Swiss analysts estimate the Rolex brand to sell around $4.5 billion in watches every year.
Counterfeiting
The downside of Rolex's popularity is the prevalence of counterfeited watches. An influx of counterfeit Rolex watches has flooded the market. Take caution when purchasing a Rolex watch to ensure you are getting the real thing.
Here are some tips for buying a real Rolex watch, including some of the most important things to look for and to avoid when deciding to buy a Rolex watch. Remember that Rolex watches are made from 904L steel, confirm the steel type before buying. The serial number should be deeply engraved and legible. If the crown logo is missing from the dial, the watch is inauthentic.
Rolex watches almost never have engraved elements on the back of the watch. Take caution with a Rolex that does. Additionally, since 2002, Rolex has included a micro-etched the crown logo at the 6 o'clock position of the crystal to combat counterfeiting. Check for this tiny logo on all genuine Rolex timepieces since that year.
Another way to tell if a Rolex is authentic is to listen for a ticking noise. Rolex's watches do not tick as most other wristwatches do.
About the Rolex Submariner Blue
The Rolex Submariner Blue (116613LB) is a model found in the classic Rolex Oyster Perpetual Submariner line. This line was first offered in 1953. The Submariner is a sports watch built specifically for underwater use. First introduced into the product line in 2009, sales for the Rolex Submariner Blue are continuously strong. This watch offers unique aesthetic appeal with the bright royal blue dial and bezel paired with the dual tone stainless steel and yellow gold.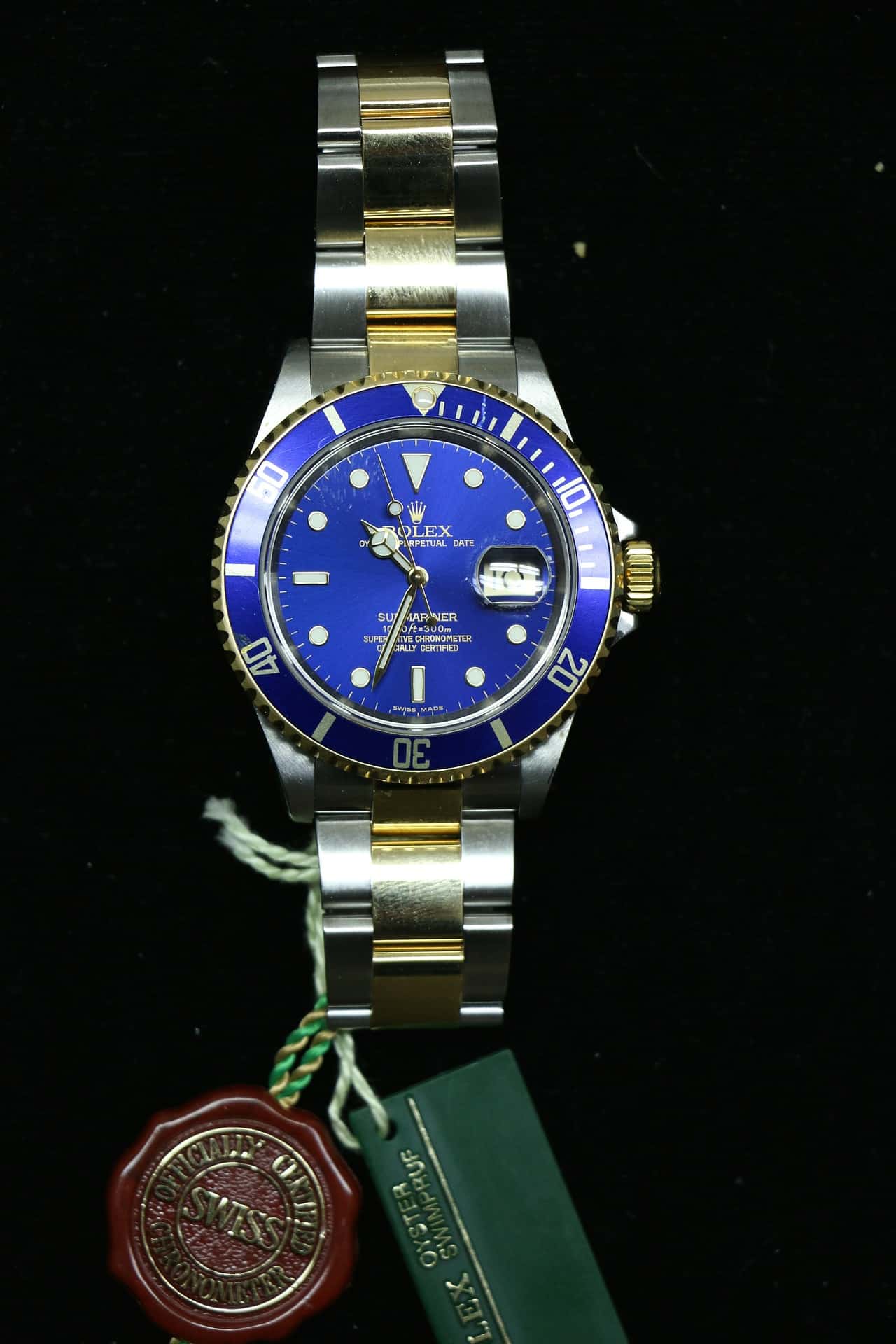 Functions in the Rolex Submariner Blue wristwatch include hands for center hour, minute, and seconds. It also contains instantaneous date with a rapid setting, and the ability to stop seconds when timing. The precision of the watch has a time deviation variance of two-seconds per day after casing. The Rolex Submariner Blue is part of the larger Submariner line that produces watches with different dial and bracelet colors and materials.
Product Specs  
The Rolex Submariner Blue with stainless steel and gold solid link Oyster bracelet was given its blue dial to assist in overall readability of the timepiece.
Rolex Submariner Blue comes with a 3135 caliber self-winding movement explicitly created by Rolex. It is a certified Swiss chronometer watch that has passed the Swiss Official Chronometer Testing Institute (COSC) watch functioning tests.
The two-tone gold and royal blue bevel have 60 individual engravings to assist divers. It is made with Cerachrom and ceramic to maximize the lifespan and maintain its appearance. Grooves are etched along the outer parameter of the bevel for gripping the piece underwater with or without diving gloves.
Rolex's Submariner Blue comes with a sapphire crystal and cyclops date lens. The power reserve for this watch is up to 48 hours, and it contains bidirectional Perpetual rotor self-winding.
Pricing
Prices for the Rolex Submariner Blue are found in the mid-range for the Rolex brand. Rolexes start around $$ and can cost over $$$ for an individual wristwatch. The Rolex Submariner Blue is round in the $$$.
How It Compares
To see how the Rolex Submariner Blue wristwatch stacks up to the competition, we've reviewed a few products in its class for comparison.
Rolex GMT-Master 1675

Rolex Oyster Perpetual 114300

Rolex Sea-Dweller 116600
[amazon link="B00BCYM8ZS" title="Rolex Submariner Blue"/]
[amazon box="B00BCYM8ZS"]
Price
The Rolex Submariner Blue costs around $$$ on Amazon.
Features
Features on the Rolex Submariner Blue include an analog display, date display, unidirectional rotating, and water resistance up to 1,000 feet. This watch also features Rolex's 31-jewel-encrusted automatic movement including a magnetic resistant Parachrom hairspring. The Rolex Submariner Blue will run for two days on one full wind.
Design
The design of the Rolex Submariner Blue presents a timeless blend of polished and brushed gold encased within the brushed steel outer part of the bracelet. The watch comes with Rolex's signature Glidelock Extension System allowing for adjustment in two-millimeter increments. This watch falls in the midrange category for size and measures in at 40 millimeters.
The two-toned bracelet on the Rolex Submariner Blue meets at the matching blue and gold bezel wrapped around a circular dial. All dial text on the Rolex Submariner Blue is golden, helping it blend into the royal blue dial background.
Material
The Rolex Submariner Blue band is built with stainless steel (Oystersteel) and 18-karat yellow gold. The dial window is constructed with highly scratch-resistant sapphire-crystal. The Rolex Submariner Blue bezel is made with a Cerachrom ceramic, ensuring long-lasting opacity in color.
Pros
Durable and well made

Phenomenal color contrast

Long automatic winding times
Cons
Smaller watch

Cannot dive as deep as other Rolex watches
Rolex GMT Master 1675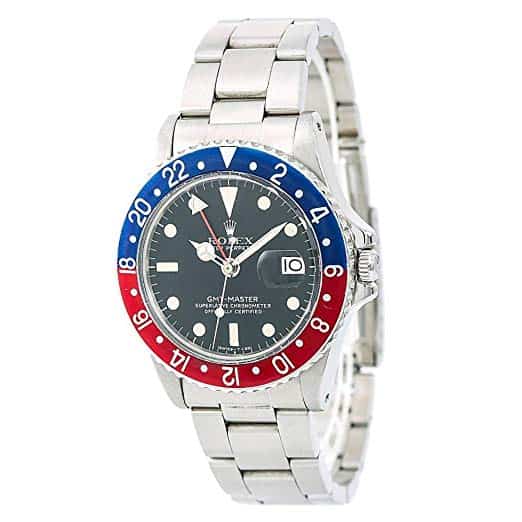 The Rolex GMT Master 1675 is part of the Rolex GMT Master line originally developed in partnership with Pan American World Airways in the 1950s. This line of watches was designed with aviation in mind and was the official watch of several airlines of that period.
The "GMT" stands for Greenwich Mean Time. This was displayed on the watch before 1972 when the time standard in aviation switched to use Coordinated Universal Time.
Price
The Rolex GMT Master 1675 costs between $14,000 and $$23,000 on Amazon.
Features
Features on the GMT Master 1675 has an analog display, fold-over clasp, date, hours, minutes, seconds, automatic self-winding, and a bidirectional bezel function.
Design
The Rolex GMT Master 1675 is most known for the dual-tone bevel that shows the flip from day to night on the watch. The bevel color is royal blue on the upper portion and red on the lower portion. This feature was especially helpful for pilots in the early days of commercial aviation.
The 40-millimeter band on the watch is made from stainless steel. The dial of GMT Master is matte black.
Material
The GMT Master 1675 by Rolex is made from stainless steel. The dial window is made from plastic.
Pros
Extra timing features

Rolex certified pre-owned purchasing options
Cons
Original GMT Master series no longer in production

Plastic dial window
Rolex Oyster Perpetual 114300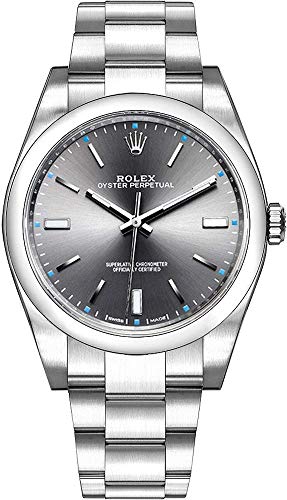 The Rolex Oyster Perpetual is the successor of the original Oyster line from 1926. Rolex's Oyster line was the first waterproof wristwatch ever made. The modern Oyster Perpetual 114300 improves upon the original design by adding scratch-resistant sapphire crystal and a dark rhodium dial.
Price
Pricing for the Rolex Oyster Perpetual is in the introductory tier for Rolex watches. The watch is available for around $5,600 on Amazon.
Features
The Rolex Oyster Perpetual features an analog display, a 3132 Rolex caliber, 28,800 vibrations per hour, luminescent hands and hour markers, deployment buckles, and a screw down crown and case backing. The watch has a 48-hour power reserve and can withstand 330 feet of water resistance.
Design
Oyster Perpetual comes with classy brushed stainless steel and Oyster bracelet design. The watch's bezel is domed, pairing nicely with the 31 vibrant jewel markers emblazoned upon the dark rhodium dial.
Material
Rolex's Oyster Perpetual is made from stainless steel and sapphire crystal.
Pros
Sophisticated and simple design

Lower price point
Cons
Only 330 feet of water resistance

Small band size
Rolex Sea-Dweller 116600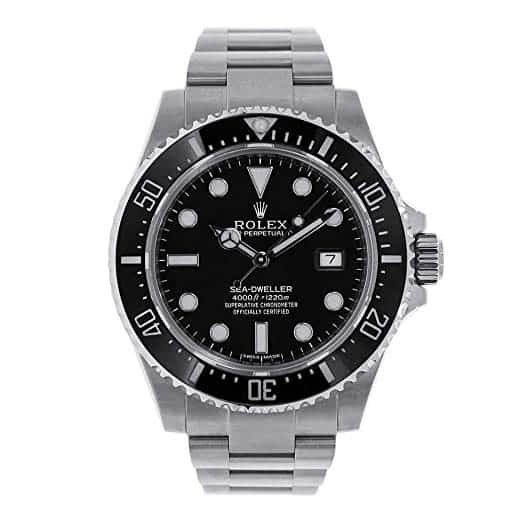 The Sea-Dweller by Rolex is the premier diving watch capable of descending to depths up to 4,000 feet. The Sea-Dweller first hit the market in 1967. The earlier versions of the Sea-Dweller could sustain water depths of up to 2,000 feet.
The Sea-Dweller was designed for professional divers. In order to protect the mechanisms of the watch at increasing water depths, Rolex thickened the watch's crystal, and incorporate a helium escape valve. Not until 2017 did the Sea-Dweller feature Rolex's signature cyclops magnifying date window. The Sea-Dweller wristwatch line by Rolex has been put to the test numerous times by professional divers, including when James Cameron took the Deepsea Challenge.
Price
Rolex's Sea-Dweller costs between $12,000 and $21,000 on Amazon. It is one of the more expensive Rolex watches on the market today.
Features
The Sea-Dweller by Rolex features a 3135 caliber with analog date, hour, minute, and second timekeeping functions with Swiss automatic movement. It can withstand water at depths of 4,000 feet.
Design
The design of the Sea-Dweller is a smooth solid silver-colored steel band with a round dial and deployment-buckle. The band length is 7.7 inches. The unidirectional bezel is fitted with outer notches for easy grasping under water. Hours on the watch are marked by luminescent geometric shapes.
Material
This watch is made from stainless steel and synthetic sapphire.
Pros
Deep dive ready

Elegant design

Exceptional calibration
Cons
Only the newest versions have cyclops date magnification

Synthetic sapphire time face
Conclusion
The Rolex Submariner Blue isn't the most expensive Rolex watch on the market, but it might just be the best option on the market today. Its unique gold and steel contrasting color design matched with royal blue make this watch a standout among its Rolex siblings. The Rolex Submariner Blue is a symbol of opulence and prestige in a comfortable mid-range Rolex price point.