*This post may contain affiliate links. As an Amazon Associate we earn from qualifying purchases.
If you haven't been a scuba enthusiast for long, you may not have your own wetsuit. That's a mistake. Rented wetsuits can be uncomfortable, unattractive and smelly. When you begin to shop for a wetsuit, you immediately notice that there are hundreds on the market. As you may suspect, not every wetsuit available for purchase is a smart buy. How do you know the difference between an excellent wetsuit and a substandard one?
That's where we come in. In this review, we take an in-depth look at the MARES FLEXA wetsuit. Continue reading to discover everything you want to know about this product.
What Is a MARES FLEXA Wetsuit?
When you jump off the boat and into the water, you must have a protective layer to keep you warm and comfortable. The right wetsuit gets the job done. The MARES FLEXA wetsuit isn't a single wetsuit. Instead, it is a family of wetsuits that consists of three members. The FLEXA 8.6.5 wetsuit is designed to protect divers in cold-water environments. The FLEXA 5.4.3 wetsuit is appropriate for temperate waters. The FLEXA 3.2.2 wetsuit is best for warm-water dives.
Since we are reviewing the FLEXA wetsuit generally, we will provide information for all three styles of FLEXA wetsuits. To avoid confusion, we refer to the suits as cold-water, temperate-water or warm-water suits. When there is commonality between the three, we use the term FLEXA wetsuit without denoting a specific model.
MARES FLEXA Specifications
https://www.amazon.com
| ​ | FLEXA 8.6.5 | FLEXA 5.4.3 | FLEXA 3.2.2 |
| --- | --- | --- | --- |
| Code | 412337 | 412338 | 412348 |
| Water Temperature | Cold | Temperate | Warm |
| Thickness | 8.6.5 | 5.4.3 | 3.2.2 |
| Closure | Zip Front | Zip Front | Zip Front |
| Back Protection System | Yes | Yes | Yes |
| Thermo Plush | Yes | Yes | Yes |
| Hood Keeper Ring | Yes | Yes | Yes |
As you can see, the primary difference between the warm, temperate and cold-water FLEXA wetsuits is the thickness of the suit. For cold-water environments, the suit is considerablely thicker than the one used in warm-water dives. To tell the difference in each suit, you can look at its color. The cold-water suit has blue-panel inserts, the temperate suit has red inserts and the warm-water suit has white panel inserts. Still, suit construction is the same for all thicknesses.
Available in a variety of sizes, the FLEXA wetsuit is appropriate for either male or female divers. To choose the right size for you, rely on the MARES size chart on the company's website. The FLEXA features an innovative design with a front zipper. As such, getting into and out of the suit is usually simple and fast. The ergonomic design helps prevent strains and cramps while suiting up. Moreover, the FLEXA wetsuit consists of Trilastic material that stays firmly in place, regardless of dive conditions.
The FLEXA wetsuit is not a uniform thickness. Instead, MARES designers distribute fabric thickness throughout strategic places in the suit. The result is more protection where you most need it. Likewise, in places that tend to wear, extra material helps extend the life of the FLEXA wetsuit. Moreover, MARES puts extra neoprene on the back of its wetsuits. As you probably know, dive tanks can rub against a diver's back. This is uncomfortable. The extra fabric helps protect a diver's back and shoulders.
When divers are underwater, they are susceptible to hypothermia. That's why they wear wetsuits. MARES uses special technology to better protect divers from the negative consequences of exposure to cold temperatures. By stitching Thermo Plush into the upper section of the FLEXA wetsuit, MARES ensures divers have warmth where they most need it. Since Thermo Plush dries quickly, you don't have to worry about feeling soggy after you leave the water.
Finally, the FLEXA wetsuit has an integrated hook to hold your diving hood in place. It also features accessories clips that allow you to customize the wetsuit to meet your diving needs. Choose from a variety of aftermarket accessories and dive like a pro. These are not included with the purchase price of a FLEXA wetsuit. Still, adding a smart pocket to the side of the suit makes it more versatile and usable.
MARES FLEXA Pricing
Most FLEXA wetsuits sell for between $200 and $350. The disparity in pricing depends on a variety of factors. For example, the cold-water suit generally costs more than its warm-water counterpart. That makes sense, as the cold-water version has thicker neoprene throughout. MARES suits don't include hoods or boots. If you want to purchase a pair of MARES boots, expect to pay around $30 or $40. Hoods usually retail for between $30 and $50.
While the FLEXA wetsuit usually refers to full-bodied suits, MARES has some other suits with the FLEXA name. These include core suits, which don't cover a diver's arms or legs, and vests. FLEXA core suits often sell for between $130 and $200.
MARES warrants that all products you purchase from an authorized MARES dealer will be free from both material and manufacturing defects usually for two years. This limited warranty changes from product to product, though, so you must be sure you research warranty information for each piece of equipment you plan to buy. The FLEXA wetsuit is subject to the two-year limited warranty.
If you are looking for a MARES FLEXA wetsuit, you have a few options. The company does not sell products directly. Instead, you can find an authorized retailer by using a drop-down menu on the company's website, www.MARES.com. Remember, you must purchase gear from an authorized MARES retailer to take advantage of the company's limited warranty.
There is a good chance your local dive shop or scuba center is an authorized MARES retailer. Some sellers on third-party sites, such as Amazon, are also authorized MARES retailers. Still, before you finalize your purchase, you should cross check seller information with the MARES website to be sure you aren't inadvertently purchasing gear from an unauthorized seller.
Additionally, while purchasing a used FLEXA wetsuit isn't a bad strategy for saving money, you should know the company's warranty only applies to new products and initial buyers. As such, you may not be able to take advantage of the company's warranty if you choose to purchase a used FLEXA wetsuit or other pre-owned MARES gear.
[amazon box="B0051II058″]
Why Buy a Wetsuit When You Can Rent?
As we've already mentioned, a lot of people prefer renting wetsuits instead of buying since it can look like the more affordable route. To a certain extent, that's true. If you only scuba dive occasionally – for instance when you go on vacation – renting is definitely an option you should explore.
However, if you scuba dive on a regular basis, buying your own suit should be seen as an investment. The cost may be higher upfront but, as long as you purchase a quality product, the wetsuit will end up saving you cash in the long run. Especially when you calculate the cost per wear, which is a clever metric to use when establishing if an item it worth your hard-earned money. 
Not to mention the fact that you will be sure that no one else wore it and that it's clean, which is a sanitary concern for a lot of folks when renting. Finally, rental wetsuits are of inferior quality, so you might end up damaging them during your scuba endeavors and losing your deposit. That's never fun.
How the MARES FLEXA Wetsuit Compares to Other Wetsuits
While the MARES FLEXA has some impressive features, you can't really know if it is the best suit for you until you compare it with some alternatives. In this section, we compare the FLEXA with three popular competitors.
NeoSport Premium Wetsuit
Price: $125 to $350
Ease of Use: 4.5/5
Assembly Time: 4.5/5
Build Quality: 3.5/5
Rating: 3.75/5

https://www.amazon.com
The NeoSport Premium wetsuit is an affordable alternative to the MARES FLEXA. This suit is good for warm and cool-water dives but does not offer enough protection for cold-water situations. Still, it has a decent fit and allows you to move freely underwater. We like the reinforced knees and extra fabric on the back of the suit.
[amazon box="B003554F0I"]
Xcel ThermoFlex Wetsuit
Price: $400
Ease of Use: 4.5/5
Assembly Time: 4.5/5
Build Quality: 5/5
Rating: 4.9/5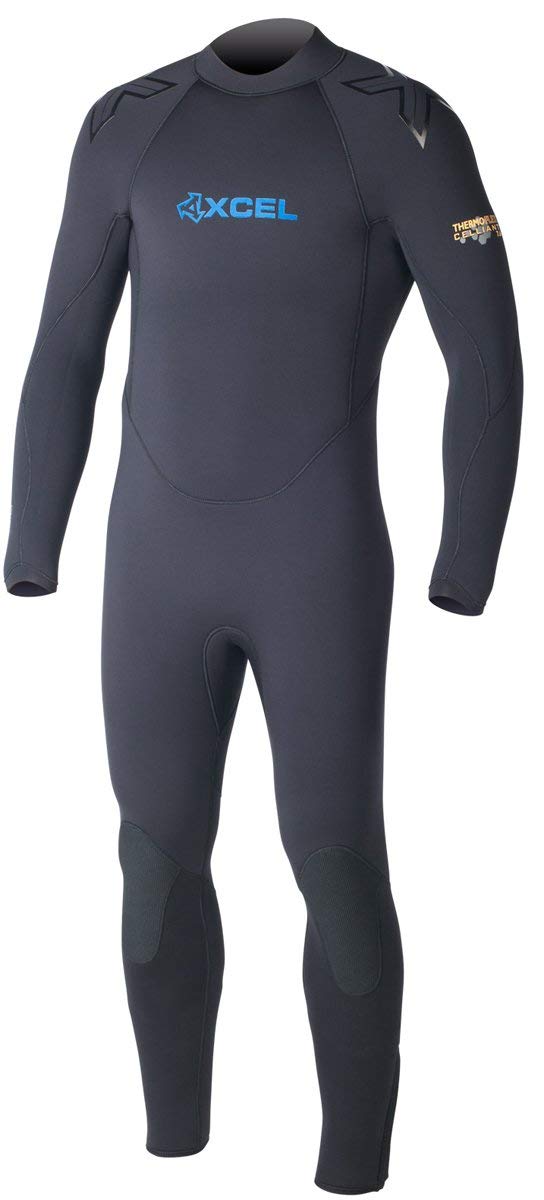 https://www.amazon.com
One of the toughest wetsuits available for purchase is the Xcel ThermoFlex wetsuit. This suit's material is high-quality compression-resistant nylon II neoprene. That's as good as it gets. Also, the suit's seams are bind stitched and four-times glued. You simply can't find a more heavy-duty suit than the Xcel ThermoFlex wetsuit.
[amazon box="B00X4MYKMK"]
SCUBAPRO Everflex Wetsuit
Price: $370
Ease of Use: 5/5
Assembly Time: 4.5/5
Build Quality: 4.75/5
Rating: 4.8/5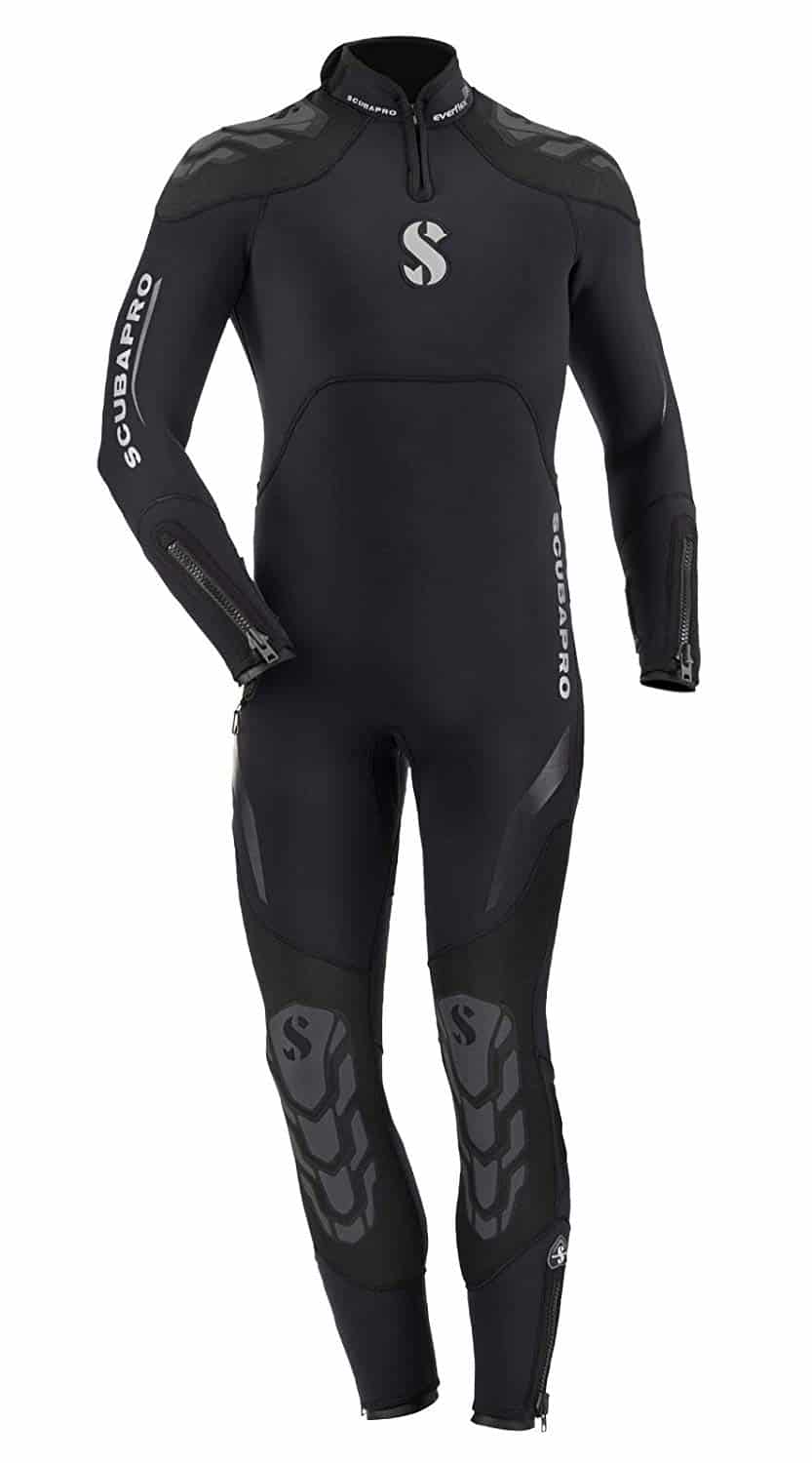 https://www.amazon.com
If you value comfort over anything else, the SCUBAPRO Everflex wetsuit is worth a look. This suit moves naturally with your body as you swim underwater. You may not even realize you are wearing a wetsuit at all.
[amazon box="B01964UEQ0″]
MARES FLEXA Pros and Cons
The MARES FLEXA is one of the most complete wetsuits on the market today. It has several advantages over other wetsuits. Still, it isn't perfect. In this section, we discuss what we think are some pros and cons of the MARES FLEXA suit.
Pros
Comfortable fit

Range of water temperatures

Stylish design
Cons
Lack of versatility

Limited sizes for some models

No warranty for pre-owned suits
The Verdict: The MARES FLEXA Wetsuit Is One of the Best Wetsuits on the Market Today
If you need a new wetsuit, you probably can't go wrong with the MARES FLEXA. In our opinion, the suit is one of the best wetsuits on the market today. Before deciding which FLEXA is right for you, you must think about your diving objectives. Remember, these suits are temperature-specific, so you need to consider where you dive most frequently.
When you are ready to buy, be sure you find an authorized MARES dealer. Not only do these retailers have the best selection of FLEXA wetsuits, but they also allow you to take full advantage of the company's excellent warranty.
Rating: 4.5/5