*This post may contain affiliate links. As an Amazon Associate we earn from qualifying purchases.
When you leave the shore and head out on a boat, you can't help but become excited about the dynamic dive you are about to have. For a safe, fun and memorable dive, you need the right equipment. While several pieces of gear make up your scuba equipment, perhaps the most important one is your diving regulator. After all, it is the regulator that allows you to breathe underwater.
As you probably know, there are dozens of scuba regulators on the market today. While all function adequately, not every scuba regulator is a smart investment. How do you know the difference between a top-notch regulator and an inferior one? That's where we come in.
In this article, we review one of the most popular diving regulators available for purchase today, the Mares Abyss 22 Navy regulator. Continue reading for answers to common questions, an honest assessment of the regulator and a comparison of similar pieces of equipment.
What Is a Scuba Regulator?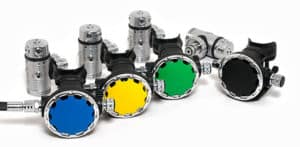 As mentioned, a scuba regulator is an essential piece of scuba gear. Simply put, regulators provide you with air when you are underwater. Their full functionality, though, is more involved than that. When you are beneath the water, you carry pressurized air with you in a tank strapped to your back or side. As you likely know, highly pressurized air is not comfortable to breathe. Additionally, it escapes the storage tank quickly when the valve is open.
To breathe naturally and comfortably while conserving stored air, you need a scuba regulator. The device reduces air pressure so that you can inhale it comfortably. It also assists with the dispersion of carbon dioxide after you exhale. Additionally, the device releases pressurized air slowly, helping to extend the useful life of your underwater air storage tanks.
While divers usually refer to scuba regulators as single pieces of equipment, they are actually complex devices. Most scuba regulators have the following four components:
While most scuba regulators have these four components, you should know that not all regulators are created equally. On the contrary, regulators come in a variety of shapes, sizes, styles and materials. Additionally, not all regulators on the market today are appropriate for all types of underwater conditions. Before choosing the best scuba regulator for meeting your diving goals, you must think about how you plan to dive. If you are new to the world of scuba, you may want to talk to an expert diver to see which style of regulator is right for you.
What Is the Mares Abyss 22 Navy Regulator?
[amazon box="B00PG8TH46″]
In a market where scuba regulators can cost thousands of dollars, the Mares Abyss 22 Navy regulator's price tag is significantly less. The regulator is appropriate for both cold-freshwater and warm-water dives. Divers who are looking for gear that resists freeze-ups often rely on the expert design and innovative construction of this piece of equipment.
The first-stage regulator is a balanced diaphragm design made from chrome-plated marine brass. Environmentally sealed, the regulator resists corrosion. In fact, because the diaphragm membrane communicates pressure changes, contaminated water never enters the internal mechanism. Therefore, you don't have to worry about the damage that salt, chlorine, sand, acids and other contaminants can cause. Instead, you have a worry-free dive, knowing your regulator has enough protection to last through hundreds of dives.
The second-stage regulator takes advantage of patented proprietary technology. A mesh design reduces water pressure, eliminating the need for a de-tune knob. Rather than fiddling with calibration underwater, you focus on diving accuracy and enjoyment.
Mares Abyss 22 Navy Specifications
The Mares Abyss 22 Navy regulator has some impressive specifications and features. Significantly, the regulator includes a first-stage CWD kit to help divers conquer cold-water diving conditions with confidence. It also uses dynamic flow control to minimize pressure drop during intermediate dives. Moreover, the regulator's tri-material valve prevents freeze-ups and helps boost regulator reliability.
The regulator system weighs 47.02 ounces, which is a moderate weight for diving regulators. It comes with a half-inch threaded 29.5-inch low-pressure hose. The system also features six ports, including four low-pressure ports and two high-pressure ones. To be sure you are getting the most out of the Mares Abyss 22 Navy regulator, the system comes with a detailed user's manual. Inside the manual, you have access to detailed drawings, expert explanations and other essential information.
As noted, the environmentally sealed chrome-plated marine brass first-stage regulator prevents contamination. The result is a regulator design that holds up well to virtually all underwater situations. If you choose to dive with this regulator, you will likely appreciate the tri-material technology that keeps you safe while optimizing dive performance. This technology uses both hard and soft polyurethane to deliver an unbeatable seal. If you are looking for a durable diving regulator, you can't do much better than marine-grade brass, hard polyurethane and soft polyurethane.
Perhaps the best feature of the Mares Abyss 22 Navy regulator is its DFC. When you inhale underwater, you must pay attention to intermediate pressure drop. If the pressure drop is too extreme, breathing is both unnatural and uncomfortable. The DFC minimizes intermediate pressure drop every time you inhale during your drive. Accordingly, you get a consistent flow of stable air, regardless of diving conditions.
The second-stage regulator is equally innovative. The mesh design minimizes free-flow that plagues even experienced divers. Using the principles of physics, the second-stage regulator eliminates the need for de-tuning. The advanced design of the second-stage regulator also includes a vortex-assisted system. This system uses an air bypass tube to deliver air to the mouthpiece. The design causes a vortex to form due to a low-pressure area in the center. When you inhale, the diaphragm stays down. The process is technical, but the results are clear: you breathe easily regardless of the dive of your depth.
Rigorous evaluation by the U.S. Navy's Experimental Diving Unit uncovered the superior performance of the Mares Abyss 22 Navy regulator. Through all phases of testing, the regulator exceeded standards. Therefore, the Mares Abyss 22 Navy regulator is authorized for military use.
Mares Abyss 22 Navy Pricing
Diving regulators aren't usually cheap. As mentioned above, you can spend thousands of dollars on a regulator system. While it has an impressive list of features and capabilities, the Mares Abyss 22 Navy regulator isn't unaffordable. At around $730, the regulator is moderately priced. It also comes with a limited two-year warranty. Even though some regulators have longer warranties, two years should be enough to determine if your new system has signs of construction defects.
How the Mares Abyss 22 Navy Compares to Other Diving Regulators
To know which diving regulator is right for you, you must think about your diving style and personal preferences. Still, you should see how the Mares Abyss 22 Navy regulator compares to some other popular diving regulators on the market today. In this section, we compare the Mares Abyss 22 Navy regulator to three similar ones.
[amazon box="B003L13BHE"]

Atomic Aquatics has long been a leader in the scuba business. The ST1 features both titanium and stainless steel construction.

Remember, the Mares Abyss 22 Navy regulator is made from marine-grade brass. We like the ST1 for its lightweight design. This competitor functions in either cold or warm-water situations.
[amazon box="B00Q439TWM"]

The Sherwood SR2 regulator's price tag is about the same as the Mares Abyss 22 Navy regulator. We like this competitor for its customization option. Like the Mares Abyss 22 Navy, the Sherwood SR2 has enough ports to attach hoses in a variety of ways. It also has a closed-water system that helps keep contaminants out of the regulator system. Still, the Sherwood SR2 is heavier than the Mares Abyss 22 Navy regulator. It also doesn't feel as well-built.
[amazon box="B016R5IZXA"]

If price is no object, you may want to think about investing in the SCUBAPRO M25 A700. Made from stainless steel, the M25 A700 is durable. It also includes some impressive technology, giving you a consistent supply of air. It isn't cheap, though. In fact, the SCUBAPRO M25 A700 is more than twice the price of the Mares Abyss 22 Navy regulator.
There are some cool scuba regulators on the market today. All have their own benefits and drawbacks. While we think the three competitors above are excellent options, they don't impress us more than the Mares Abyss 22 Navy regulator.
Mares Abyss 22 Navy Pros and Cons
Pros
We think the best feature of the Mares Abyss 22 Navy regulator is its construction. Made from chrome-plated marine-grade brass, the regulator is heavy-duty. The environmentally sealed design of the Mares Abyss 22 Navy keeps contaminants from destroying the system. It also eliminates the need for in-depth cleaning.
The Mares Abyss 22 Navy regulator is also extremely versatile. With six ports, you can configure the system in any way you choose. It isn't hard to see why the military has authorized this regulator for its use. If you want to dive in extreme conditions, you are likely to appreciate the durability of the Mares Abyss 22 Navy regulator.
Finally, we can't object to the price tag of the Mares Abyss 22 Navy regulator. At under $700, the system is one of the most affordable available for purchase today. It doesn't feel cheap, though. On the contrary, the regulator has a heftiness to it that you are sure to appreciate.
While the Mares Abyss 22 Navy regulator feels expensive, it is heavier than other scuba regulators. The weight is easy to understand, as marine-grade brass is not light. If weight matters to you, you may want to pick a regulator made from titanium or another lightweight material. Expect to pay a premium for these regulators, though.
The Mares Abyss 22 Navy regulator comes with a limited two-year warranty. While we think that gives you enough time to determine if your system has problems, the warranty is not as long or comprehensive as warranties from Atomic Aquatics or SCUBAPRO.
Final Thoughts: The Mares Abyss 22 Navy Regulator Is Excellent
Divers rely on scuba regulators to breathe comfortably underwater. Few mistakes are more consequential than relying on a substandard system. Fortunately, the Mares Abyss 22 Navy regulator is not an inferior regulator. This equipment reduces the impact of water flow onto the second stage diaphragm, thus eliminating free flows even in strong currents. So this main feature is its main advantage.