*This post may contain affiliate links. As an Amazon Associate we earn from qualifying purchases.
Oceanic scuba diving is an activity that can bring you to the edges of the known world, propel you into the unknown, and leave you facing the vast abyss with nothing else except your wetsuit and your equipment. It sounds scary. Sometimes, it can prove dangerous, and a diver should never go into the water without trusted equipment. While this holds true for river or fresh water diving, it is doubly important in oceanic scuba diving because of the added dangers of being far from shore.
A good regulator is more than a convenience item. It limits the amount of time you have to spend thinking about your breathing techniques and allows you to actually enjoy the serenity of being out in the water, surrounded by nature, and feeling at home; even if you have never been further away.
Diving – even diving with the proper equipment – is never necessarily "safe," but that is what real enthusiasts love about it! The adventure of going where few have gone before obviously comes with its own sense of danger, but this need not deter the avid enthusiast. Though the sport is not without risk, purchasing a dive regulator you can trust is a great way to mitigate or minimize the potential dangers of deep sea diving.
Oceanic Scuba offers some of the best regulators for any oceanic scuba or diving pursuit. After all, what is more important than the ability to draw clean, effortless breath while trying to enjoy your favorite water activities? What is better than knowing that the most intrinsically important aspect of your scuba get-up is engineered to be a top-notch performer perfectly tailored for your individual uses?
What Is an Oceanic Scuba Regulator?
Diving regulators are a key component of every diver's kit. By reducing the pressure of breathing gasses coming from a scuba cylinder, regulators allow divers to breathe more easily and give one greater control of the expenditure of their air. They are a vital part of any underwater excursion, and their invention opened up an entirely new world of human exploration, allowing divers to go deeper underwater than ever before. When underwater, they are a diver's lifeline. That is why it is so important to get one that fits your needs and doesn't break your bank account.  Oceanic Worldwide carries numerous models of regulators safe of oceanic scuba activities and in this article, we will discuss the pros and cons of certain items they carry.
[amazon box="B01N0NYFJC"]
The Alpha line of regulators comes with the versatility and durability relied on by professional divers across the globe, without bringing the hefty price tag. As a result, any of the entries into this line are great for weekend enthusiasts, beginners, or people seeking to enjoy a leisurely dive in familiar waters. It comes equipped with a lifetime warranty and is designed for both ease of use and ease of service, and as a bonus, the Oceanic Scuba provides users with free parts included in the warranty.
The newest addition, the Alpha 10, is lightweight, compact, has angled ports for easy hose routing and has a breathing rate of 1.23 Joules. Overall, these regulators provide reliability and performance beloved by both amateur and professional scuba divers.
The Alpha 8 Sport, the most cost-effective of regulators, will get you in the water for just over a hundred dollars and will still last you a lifetime.
[amazon link="B06ZYMQBPL" title="Zeo" /]
[amazon box="B06ZYMQBPL"]
The Zeo is a regulator that takes engineering mastery to the next level. By foregoing the "L" shaped design of older model regulators in favor of a more advanced in-line system, the Zeo provides its users with an enjoyable breathing experience while minimizing pressure drop associated with other designs. The inline design of the hose array is better for diving in water with high salinity or particulate suspension because it has only a minimal amount of surface exposed to the water.
Its composite, marine brass valves are resistant to corrosion and provide users with great life-span and durability. They have overbalanced diaphragms for ease of use in deep or cold water. These regulators are designed for comfortable breathing in any diving environment and provide the engineering finesse to make good on its promise. The only downside is that all the high-tech design features make the Zeo a pretty pricy purchase, and therefore, may be better suited for experienced divers who know how to get the most out of their equipment.
[amazon link="B072JF15FZ" title="Slimline" /]
[amazon box="B072JF15FZ"]
The Slimline series is a great regulator for divers looking to save a little money or divers who don't go out as often as they would like. Its body is made of a tough rubber coating that will stand up to years of wear and the neon colors it comes in are great for identification and visibility in case of any emergency.
Unfortunately, the hose only attaches from one side of the regulator, and the lack of marine brass valves can cause the "dry-mouth" sensation associated with less technologically-advanced equipment. But do not let this throw you for a loop: the Slimline is still a top-of-the-line regulator that will withstand the wear and tear of frequent use. It may not get you to the bottom of the ocean, but for the average scuba enthusiast, this regulator provides everything needed at a minimal cost.
Is the Oceanic Scuba Regulator the Best for Diving?
The Oceanic Scuba regulators provide a great and easy breathing situation for any diver in any number of situations. Whether you are diving in the bay at the end of your grandmother's street or exploring the underside of an iceberg off the coast of Antarctica, Oceanic Scuba can outfit you with a regulator that will fit your adventure perfectly and provide you with a comfortable experience the whole way through.
The state-of-the-art technology that goes into Oceanic regulators is a worthwhile investment for anyone interested in the sport because they make the art of breathing underwater both accessible and unforgettable. When using any of the aforementioned pieces of equipment, the diver need not worry about breathing or experiencing a malfunction.
The regulator handles all of that flawlessly, so that, for the user, the act of breathing in the ocean in no different that the act of breathing on dry land. This type of dynamic breathing experience is what makes Oceanic a forerunner in the scuba industry and is the reason why professionals trust their name brand as a brand that can be relied upon to deliver.
Key Features of the Oceanic Scuba Regulator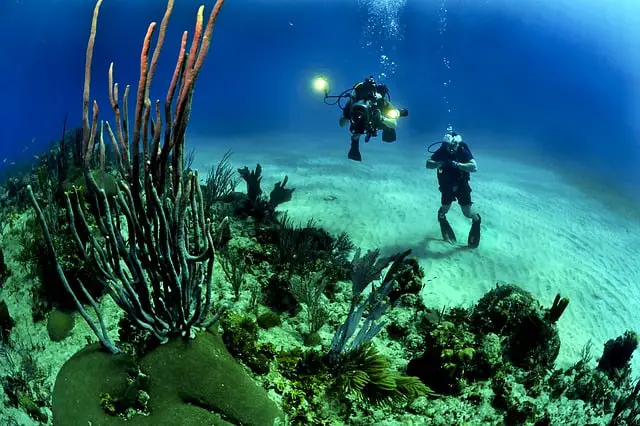 To fully appreciate the precision that goes into an Oceanic Scuba regulator, let's take a closer look inside and discuss the impact the design has on the equipment's performance. Inside the Zeo, we have chrome-plated valves made of marine brass that provide an easy, efficient, and reliable recirculation of humidity within your breathing system, even in frigid environs. These fittings allow for condensation to form on the valves themselves, moistening the air you breathe and preventing dry mouth. The Zeo also comes with the full array of specifications: inhalation control, dynamic adjustment, inline breathing, and more. Its features are designed with the users in mind, and a focus on providing reliability, longevity, and comfort for both beginning and advanced divers. 
Oceanic regulators are also outfitted with over-balanced diaphragms, which allow for better performance at increasingly high depths. Over-balancing also ensures that the amount of air you get to enjoy at the bottom of the ocean will not decrease as your tank begins to run dry! All of these features combine with the comfort of orthodontic mouth fittings to reduce jaw tension as you dive in comfort deeper and longer than ever before. They work the same with a wide variety of breathing gasses and they make the efforts of breathing underwater a thing of the past.
Oceanic Regulators also come with an extended warranty and a 30-day satisfaction guarantee that provides the buyer with a great degree of transparency and "customer first" business practices. When you buy a regulator from Oceanic Worldwide, you know you are buying a quality item, and the company, through their warranty system and guarantees, reassures you.
Conclusion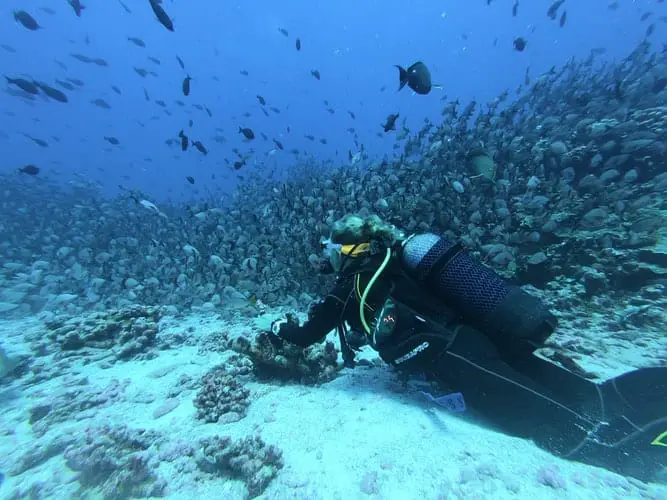 Image source: Unsplash
When scuba diving either in shallow freshwater or deep salt water, it is important to use equipment and technology that users can trust and rely upon. As pioneers in scuba apparel and equipment, Oceanic Worldwide provides this technology, and with a variety in cost that will fit anyone's budget or lifestyle. We hope this article has pointed you towards the regulator of your choice. By sticking with Oceanic, divers can guarantee that they are purchasing a piece of equipment that will last a lifetime and will allow them to experience the oceans and waterways of the world in both comfort and style. If you want to enjoy your scuba diving adventure without the stress of strenuous or uneven breathing, any number of Oceanic regulators will be the perfect fit for you.
Featured Image: Image via Amazon