*This post may contain affiliate links. As an Amazon Associate we earn from qualifying purchases.
Tourists, explorers and adventure enthusiasts are always looking for new destinations to discover. Be it parks, hills, rocks, lakes, beaches, rivers or high peaks, the U.S. has an abundance of natural wonders that attract millions of tourists each year. Blue Hole New Mexico is truly a marvel: a clear blue swimming hole, about 60 feet wide and 90 feet deep.
It is a complex network of underwater caves, right in the desert. And not just that, this popular diving destination is located at an elevation of over 6000 feet and has a constant supply of water. Situated about 115 miles east of Albuquerque, the Santa Rosa Blue Hole New Mexico is considered one of the best open water diving spots in the Southwest. Once known as the Blue Lake, it is one of seven sister lakes that are connected and fed by the same underground water system.
What Is Blue Hole New Mexico?
The Santa Rosa Blue Hole New Mexico is located off Route 66 and is a swimming and diving spot open to all. A sinkhole in New Mexico's arid climate, it is an extravagant natural formation. It has been unexplored for many years and it is only in the past decade that exploration teams have dived deep in to it to discover what lies beneath.
How It Was Formed
This striking blue water hole was formed when the surrounding area's limestone bedrock collapsed and filled an artesian (denoting constant water supply without any pumping systems) well that pumps out 3000 gallons of water per minute! That is equivalent to filling three Olympic size swimming pools every three hours. The water in the sinkhole comes from the Ogallala aquifer.
The sinkhole has new water in it every few hours. This prevents the formation of algae that grows in stagnant waters, contributing to the crystal clear waters and great visibility. The artesian spring that provides constant water to the sinkhole was formed due to the collapse of geological layers and consistent water action.
Blue Hole was apparently formed about 20,000 to 100,000 years ago. Sink holes or cenote lakes (as they are also called) are formed due to water erosion below and water pressure from springs above resulting in this geological phenomenon.
The Santa Rosa sink was formed due to water seepage and erosion for thousands of years, resulting in a large basin.
Blue Hole has an extensive network of underwater caves that probably connect to other caves and lakes. Some believe the cave system under the Blue Hole could extend up to Carlsbad Caverns, almost 200 miles south of Santa Rosa or even up to the Gulf of Mexico That would make Blue Hole a part of the world's largest cave system. Blue Hole New Mexico is one amongst many other lakes in Santa Rosa that feed the Pecos River.
Past Explorations
In 1976, two student divers from Oklahoma State University managed to enter a narrow opening of one of the Hole's chambers. They reached a depth of more than 100 feet but silt displaced due to their movements, obscured the cave opening, and they went in the wrong direction. They found no exit and lost their lives. One body was recovered immediately while New Mexico state police needed six weeks to find the body of the second diver.
During the recovery operation, the police also found another entrance to a deeper tunnel that had not been explored before. After this accident, the city of Santa Rosa sealed the entrance to the underwater caves with a grate and the U.S. Army dumped rocks over the grate to ensure that nobody else would be able to access the vast chambers under the sinkhole and risk their life.
It was in 2013 after many years that explorers removed the grate and ventured into the deep sinkhole once more. This project was undertaken by the ADM Exploration Foundation. Their lead explorer was able to access one of the cave chambers that had been untouched since 1976. He even took off all his diving gear to be able to squeeze through the opening, but the entrance to the second room was blocked by a huge boulder; and although several divers tried to shift or dislodge it, it did not budge. Also, they could not go deep and a huge part of the underwater chambers remains undiscovered.
Many teams have worked to remove all the rocks and silt that has been deposited over the cave system entrance to make way for new exploration opportunities and plans. This has increased the supply of freshwater from the artesian well and improved water clarity. It has resulted in better visibility for divers and also the people downstream who consume the water. A new grate built by the Santa Rosa Public Works Department has been installed to cover the exposed cave entrance and avoid any untoward incident for tourists and divers visiting Blue Hole New Mexico.
What Is There to Do at Blue Hole New Mexico?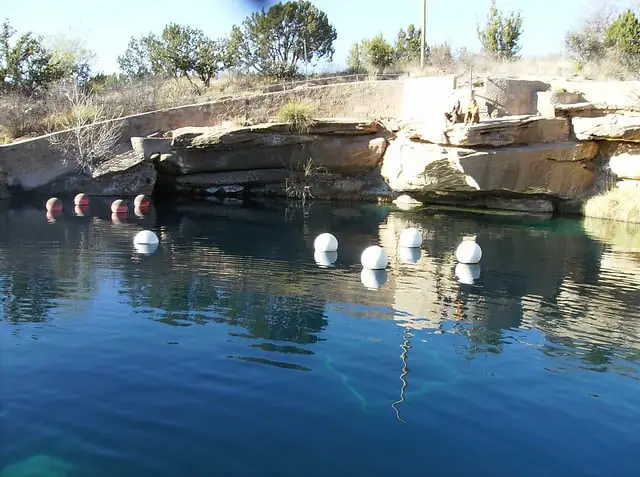 image source: flickr.com
This lake was a National Fish hatchery in 1932. It became a recreational area in the 70s and in recent years; it has developed and expanded into the Blue Hole Dive and Conference Center. Tourists and divers from all over the world come to visit this place and take a swim or dive in this enigmatic sinkhole right in the middle of a desert.
Swimming
This 60 feet wide and 90 feet deep water hole is an amazing picnic spot that should be explored with family and friends. The water temperature here is more or less constant all year round- about 61 degrees. Swimmers or those wanting to take a dip can also enjoy wall diving. Swimming is permitted for certain hours according to season at Santa Rosa.
Diving
This popular destination is one of the best in-land scuba training lakes in the region. It offers Open Water, Advanced Open Water, Rescue, Dive Master and Diving Instructor Training. More than 3000 divers train here every year. There is a boat simulator platform on top of the water, a training dock at Perch Lake and three training platforms underwater. Divers can make use of the warm rooms and showers at the Dive Center. Dive planning materials are also available here.
You can dive at Blue Hole New Mexico all year round, as the water temperature is always stable and visibility is consistently 100 feet. A minimum 7- mil wetsuit is recommended for diving.
Signing a permit and release form is mandatory before diving at Blue Hole. The Dive Center can provide SCUBA tank refills and other equipment on rent.Certain precautions need to be taken after your dive. It is recommended that you adjust dive plans and tables keeping in mind the elevation of the area. Traveling after diving must be planned carefully. Avoid flying a day or two after a dive.
Dive Into the Santa Rosa Blue Hole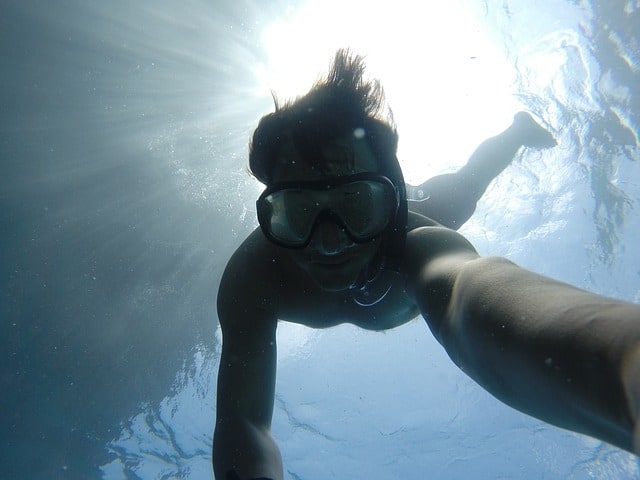 image source: pixabay.com
Diving Permits
SCUBA permits are required to dive the Blue Hole. A one week valid permit costs $20 and an annual permit costs $50. These are available at the Dive Center or the Blue Hole Dive Shop. There are also permits for skin diving that include Free Diving or breath-hold underwater diving. Fees may apply for swimmers, children and pets as well. Fishing is not allowed at the Blue Hole. The Dive Center is open on the weekend and on weekdays, only by appointment.
Getting There
Blue Hole New Mexico is situated about halfway from Albuquerque and Amarillo. It is about a two hour drive or less for most people in New Mexico and so is perfect for a day out, weekend plans, events and more. Temperature of the region varies from very high in summer to very cold in winter.
Lodging
The Blue Hole Dive Center does not offer lodging facilities, but there are many lodges, motels and RV parks on Route 66 that are pocket friendly and comfortable. You can find these on the Santa Rosa website.
Facilities Available
Visitors to Santa Rosa have ample parking space. There are Training and Meeting rooms, changing facilities, restrooms, warm rooms and showers. The warm rooms and showers are only open to scuba divers and guests to the dive center.
The Dive shop has diving supplies, permit registration forms, rules and regulations, floor plans, maps and visitor information.
Conclusion
A favored spot for scuba divers, families and tourists, Blue Hole New Mexico charms everybody with its serene blue, crystal clear waters. Situated at a convenient location for all New Mexicans and with the best diving training center in the region, Santa Rosa has visitors from neighboring states and countries.
Adhering to all the rules and regulations laid down by the Santa Rosa Blue Hole Convention Center and Dive Center will ensure a safe outing and adventure for you and your family. This geological marvel also needs to be cared for and everybody must make the efforts to keep it clean and pollution free.
featured image source: flickr.com