*This post may contain affiliate links. As an Amazon Associate we earn from qualifying purchases.
Do you find yourself staring into aquariums and wondering what it would be like to live among the fish? The relaxing slight undulation of the water lulling you to sleep each night; glass separating you from the outside world and giving you a sense of coziness and security? What if you could make this scene a reality, with the added benefit of having all of your land-lover comforts? If this sounds like a dream-come-true, then Jules Undersea Lodge is one destination you should put on your bucket list. Named after Jules Verne, author of 20,000 Leagues Under the Sea, this hotel creates the same sense of adventure and curiosity that Jules Verne did in his famous book. Laze the day away watching angelfish, parrotfish, barracuda, snappers, and even manatees swim past.
What Is the Jules Undersea Lodge?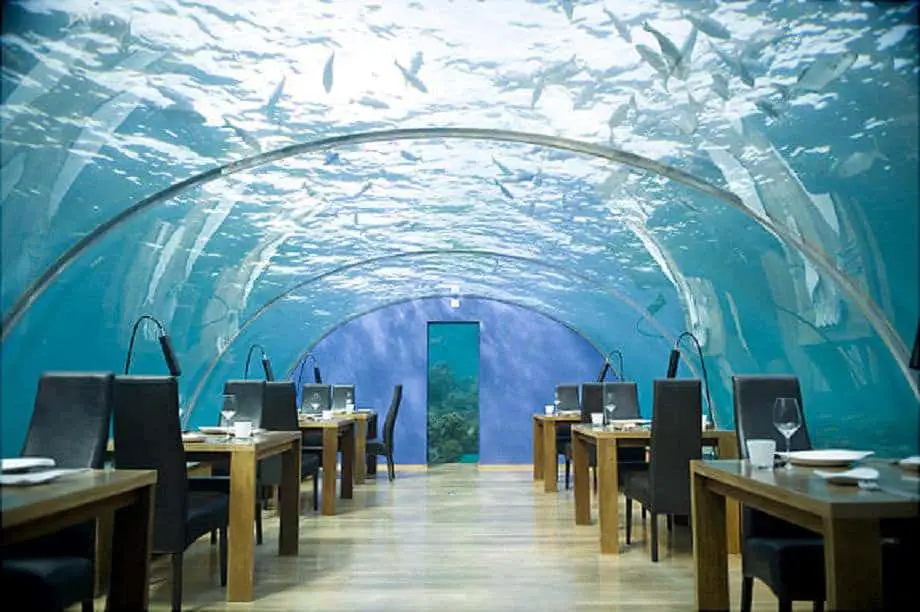 The Jules Undersea Lodge is an underwater hotel and the only one of its kind in the United States. Located at the bottom of the lagoon at Key Largo Undersea Park in Florida, this little slice of heaven offers a unique experience.The undersea construction originated in the 1970s and served as a marine laboratory to an ocean researcher named Ian Koblick. When it had run its course as an underwater laboratory, it was converted into the now famed Jules Undersea Lodge and has been enchanting visitors since 1986.Guest of Jules Undersea Lodge will find the entrance 21 feet below the lagoon's surface. That's right: guests must dive deep under the water to get there. If you have never dived before, you don't have to scratch this gem off your bucket list. The lodge offers special diving lessons for its guests, who will be escorted to the hotel's entrance by the instructor upon completion.Once in the hotel, guests will find a suite with two bedrooms, an updated bathroom, a modest living room, and a fridge full of snacks. Being underwater doesn't mean you have to be uncomfortable, either. You can have a pizza delivered, order flowers, and enjoy the AC just like you could in any other hotel—but this is far from any other hotel. Other hotels don't have a "mer-chef" who will swim down to prepare a gourmet meal for you!Jules Undersea Lodge is a diver's paradise. You are free to dive throughout your stay and the tanks are unlimited. If you are not yet a diver but want to become one, the lodge offers SCUBA lessons and PADI certification. If you neither a diver nor a person with the ambition to be one, you will still immensely enjoy your time in the lodge with the large round windows in each room that allow you to gaze out into the tranquil waters at any time and from anywhere.
What Are the Rates for the Jules Undersea Lodge?
The lodge offers a range of packages all varying in price. Though you will find them to be higher than that of a normal hotel, this cannot be compared to a normal hotel.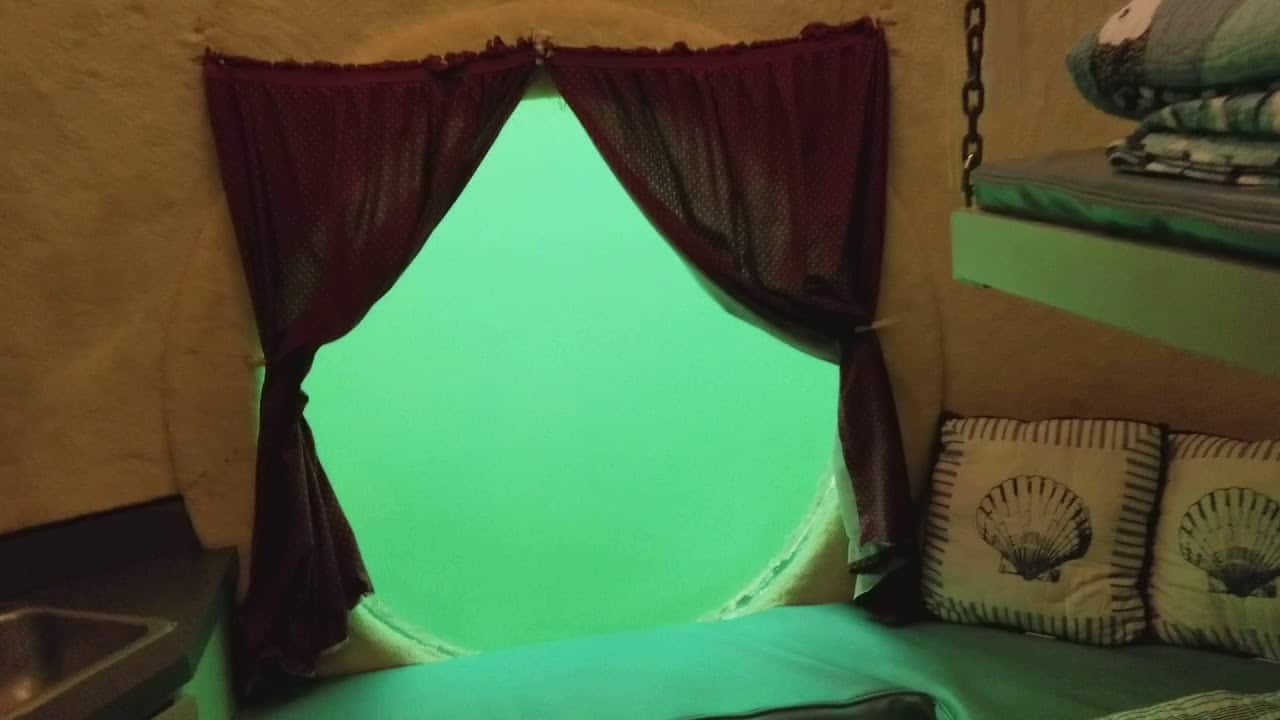 3 Hour Mini Adventure
The 3-hour mini-adventure is just as it sounds. You can be taken down to the lodge without the commitment of staying there. You can explore inside the lodge and have an underwater pizza delivered to you, and you can gear up and dive around the lodge and take in the sights, which include a shipwreck and a research lab. This adventure will set you back $150 per person, and there is a two-person minimum.
Group Economy Package, Package for Two, and Single Occupancy
Jules Undersea Lodge only has two rooms, so your group can't be too large. For 3-4 people the cost is $350 per person, per night. For 5-6 people, there is a slightly discounted rate of $300 per person. If there are only two in your party, the cost is $800 total per night, $900 if you opt for separate rooms. If you want to visit the lodge solo, it will be $675 per night.
The Ultimate Romantic Getaway
The Ultimate Romantic Getaway is the way to go if you are looking to have a memorable and romantic stay with someone special. You will have fresh flowers and appetizers upon arrival. You can choose from filet mignon or Florida lobster tail for dinner. All the dive equipment is included in the price of this package, which is $1395.
Cancellation Policy
Because Jules Undersea Lodge is a small specialty hotel, the cancelation policy is strict. There is no deposit refund offered if you do not give 30-days or more of notice for your cancelation. You will get 50% of your deposit refunded if you give more than 30-days of notice. If you do not arrive by check-in time and you have not informed the lodge of your change in arrival time, your reservation will be canceled and no refund will be issued.
Lagoon Activity and Gear Rental Rates
In the lagoon, you can snorkel for $15 per person, go on a dive with an instructor for $35, and do a special night dive for $40 per person with a two-diver minimum.Equipment for these activities can be rented for the following prices: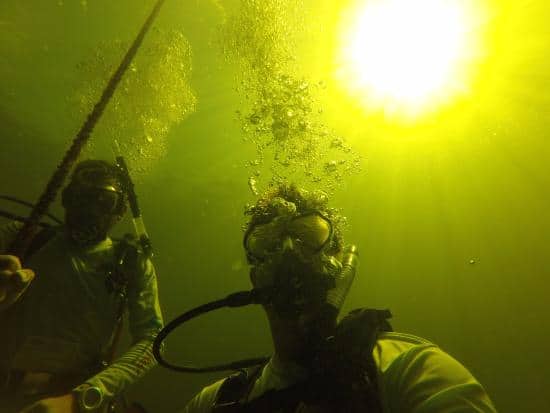 Gear pack: $40
Tank: $8
Air fill: $15
Regulator: $15
BCD: $15
Weights and belt: $5
Mask and snorkel: $5
Fins: $5
Wetsuit: $10
About The Jules Undersea Lodge
1. How It Works
Jules Undersea Lodge is completely submerged by water. It sits on stilts approximately five feet off the floor of the lagoon. The lodge is filled with compressed air to prevent flooding. There is a land-based "Command Center" that constantly monitors the lodge and provides it with fresh air, power, water, and communication via an umbilical cable. The "Command Center" ensures the safety of staff and visitors. They help to fulfill guest requests to ensure an unforgettable stay.
2. Claims to Fame
As you could imagine, such a unique place might appeal to some celebrities. The lodge has hosted Aerosmith's Steven Tyler, actor Tim Allen, and former Canadian Prime Minister Pierre Trudeau. It was also made the Guinness Book of World Records in 2014 when a Tennessee college professor stayed for 73 days, making his stay the "longest time spent living in an underwater fixed habitat." The lodge has also been the subject of many magazine articles and TV segments.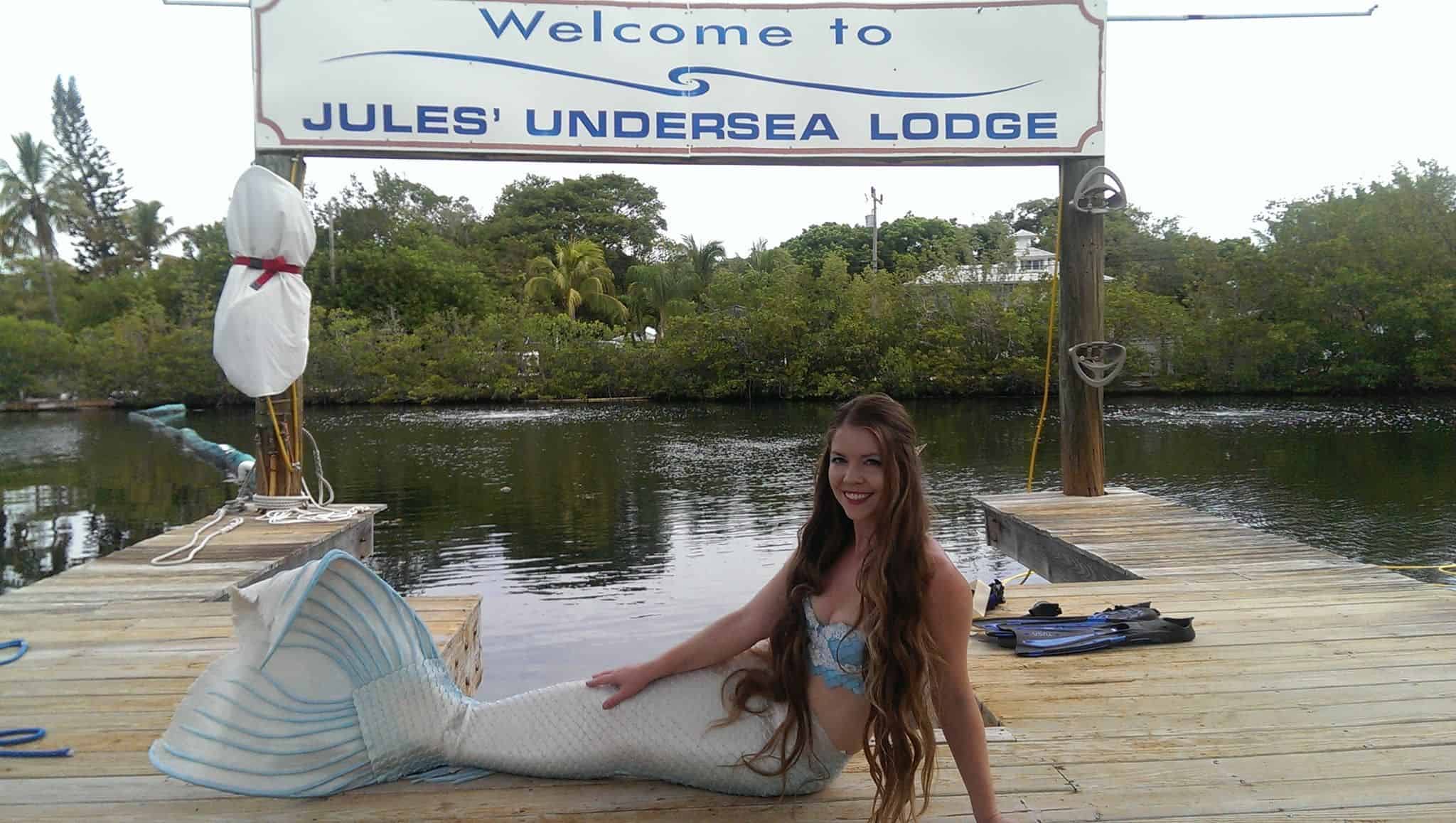 3. Eco-Friendly
Jules Undersea Lodge is an eco-friendly facility. The lodge itself serves as an artificial reef which protects the marine life. Additionally, the air flow to the lodge is constantly oxygenating the surrounding waters.
4. Underwater Weddings
You can actually get married at Jules Undersea Lodge. The lodge will provide music, fresh flowers, a wedding cake, a notary public who will make the dive for your ceremony, and their "mer-chef" for a delicious dinner of shrimp cocktail, steak or lobster, salad, veggies, and dessert. The ceremony is under $2000, which is a modest price for a wedding, especially such a unique one that takes place underwater. The only drawback would be the inability to invite all of your family and friends—unless that is a very short list. Additional guests are $175 per person.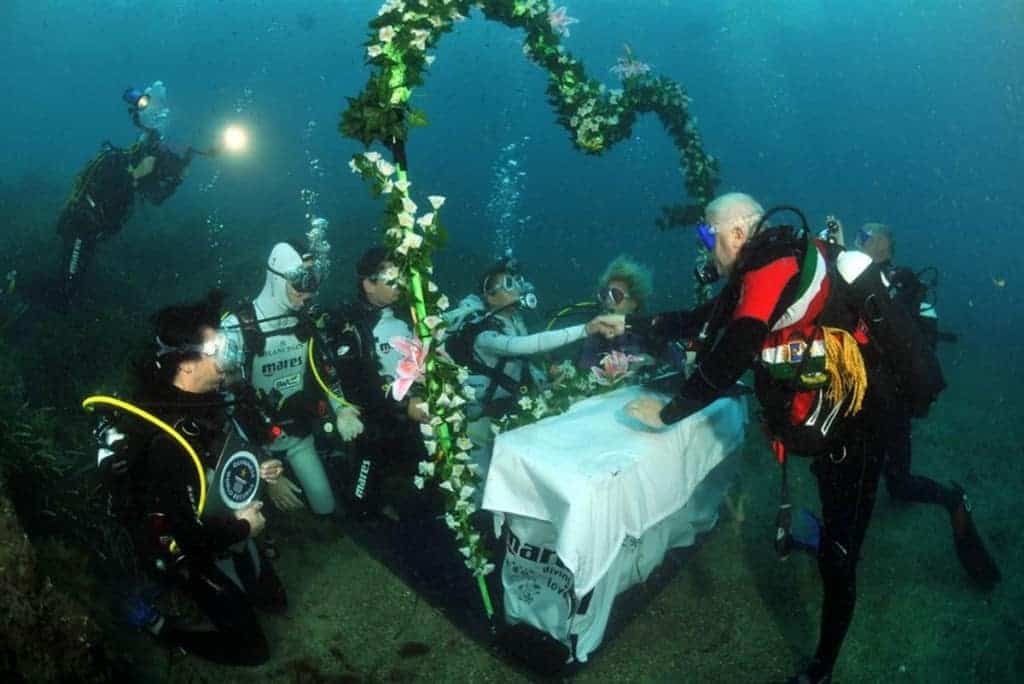 5. Gift Shop
One of the great things about this hotel is that it manages to have all of the typical hotel staples even though it is far from a normal hotel. One of those staples is the hotel gift shop. Jules Undersea Lodge has a gift shop with all kinds of items to prove that you made the journey. Also found in the gift shop is "Living and Working In The Sea" by James W. Miller and Ian G. Koblick, which gives the history of underwater habitat programs globally.
Conclusion
Jules Undersea Lodge can offer all the comforts a traditional above-ground hotel while differing completely from any hotel you have ever stayed at. Enjoy great meals, television, and pizza delivery all while underwater, gazing at the mesmerizing marine life surrounding you.If you are a diver, this lodge is a must for your bucket list. You can dive all day and even at night. All the gear is provided and tanks are unlimited. If you aren't a diver, you can take SCUBA lessons and even become PADI certified.If you have no interest in diving beyond what it takes to arrive at the entrance of Jules Undersea Lodge, this unique once-in-a-lifetime experience will still be awe-inspiring. Jules Undersea Lodge is a great place to forget the hustle and bustle of land life. You can just gaze out the large round windows marveling at the beautiful ocean world around you.If you are a couple, the lodge serves as an excellent romantic getaway, offering specially priced packages for couples for couples to enjoy a private, exclusive space together. Brides and grooms can even take advantage of the wedding package to make their special day absolutely mesmerizing.No matter who you are, it would be hard not to get swept up in the charm of a place like Jules Undersea Lodge. You will feel like you belong to an elite club having experienced something so amazing that few people in the world will ever get to experience. If you have been itching to get away and do something extraordinary, a stay at Jules Undersea Lodge can scratch that itch and give you amazing memories, pictures, and stories for years to come.