*This post may contain affiliate links. As an Amazon Associate we earn from qualifying purchases.
Whether you are taking a dive or surfing the waves, a wetsuit is one of the most important pieces of gear you can buy. It's the one piece of gear that will keep you warm in cool waters and protected in any temperature. Cold water temperatures aren't just uncomfortable, but could be dangerous in many situations. Wetsuits aren't a piece of gear to be taken lightly, so you should carefully research the best brand and style for your next big trip. Whether you are a casual diver or a professional surfer, you need a wetsuit that is warm, comfortable and durable.
Check out the Reactive Titan Black Wetsuit by Bare Sports. This high-quality wetsuit offers a range of features that make it one of the best on the market. In order to better understand what makes this wetsuit unique, take a look at this complete review. You'll find all the information you need to choose a wetsuit. We'll look at the specifications of this wetsuit, discover more about the brand and compare the Reactive Titan Black with other highly rated wetsuits.
Choosing the Right Wetsuit
At a glance, most wetsuits look remarkably similar. If you aren't familiar with the specific features of wetsuits, it can be difficult to justify spending hundreds of extra dollars on a brand name wetsuit. In order to understand what you are buying, and why it might be a good idea to purchase an expensive wetsuit, here is a list of the basic features that all wetsuits offer.
Like most gear, wetsuits are specialized for your environment and activity level. Consider the water temperature, how much strenuous swimming you'll be doing and how often you'll be using your wetsuit. If you are planning on using your wetsuit for a variety of activities or in several different seasons, you may want to consider purchasing more than one wetsuit. There's nothing worse than being too hot or too cold while you are trying to enjoy a water sport.
Warmth
One of the most important steps to enjoying a safe day in the water is research. Be sure you know the range of water temperatures to expect. Scuba divers in particular can be exposed to incredibly cold water temperatures, even on a hot day. Think about the water temperature, air temperature, wind and your activity. Thankfully, there are wetsuits designed for almost any temperature.
Wetsuits are classified based on their thickness. Most wetsuits are made of neoprene, which is a rubber-like substance that is flexible, durable and offers good insulation. Wetsuits get their name from the water they let in, so you won't stay dry when you are using a wetsuit. However, the air bubbles in the neoprene still allow you to stay warm, particularly with thick neoprene wetsuits.
Wetsuits are typically between 3 mm and 6 mm thick. Some wetsuits are as thin as 0.5 mm or as thick as 7 mm. Each thickness allows for a particular range of water temperatures in which most divers still feel warm. However, the temperature is very dependent on your sensitivity to cold and your activity level.
If a wetsuit is advertised with multiple numbers, it means the suit is designed with various thicknesses. Typically, the body of these wetsuits is thicker and more insulated, while the arms and legs are thinner and more flexible. For example, a ¾ mm wetsuit will usually have a 4 mm torso and 3 mm arms and legs.
The wetsuits on this list are all 5 mm. This makes them rated for temperatures between 43 and 52 degrees. However, most divers also wear boots and gloves at these temperatures, so use your own judgement when determining the best temperatures for your wetsuit.
Length and Size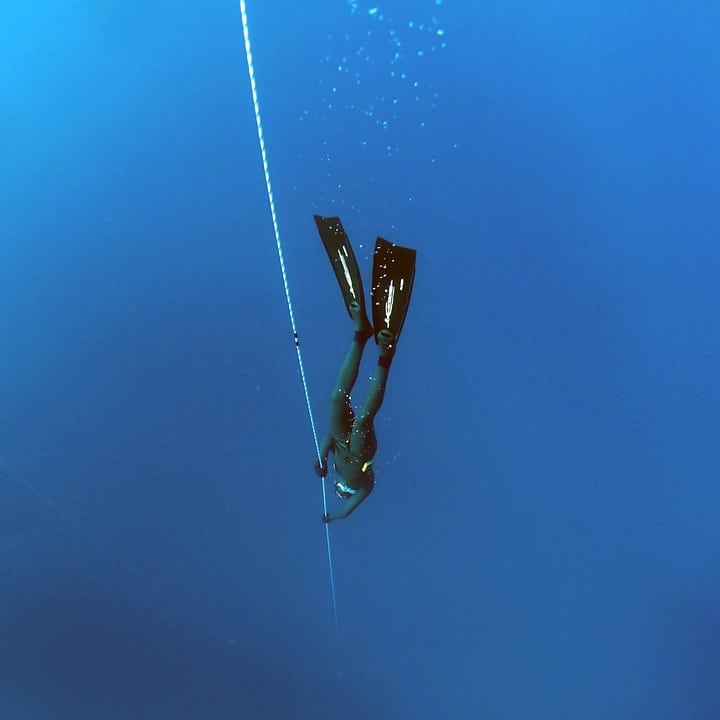 There are several different styles of wetsuit available, depending on your preference and the temperature. Most common wetsuits are full wetsuits. These cover your entire body except for your hands, feet and head. Another popular style is often called a shorty. Shorties have short sleeves and legs, so they are better for warmer weather. You'll also typically find shorties with thinner neoprene. Most are under 3 mm thick. There are other options, such as separate upper and lower portions, and many divers choose to add a hood, boots, gloves or a jacket for additional insulation in cool waters.
Choose your size carefully. Most sizes come with dimensions. You want a wetsuit that is skin-tight in order to get the most flexibility and insulation. You want to be sure you can move easily, but it should be difficult to put on dry. Once a wetsuit becomes wet, you don't want it sagging or loose. There shouldn't, however, be pressure on your shoulders when you reach above your head. This is a sign of a wetsuit that is too tight.
Stitches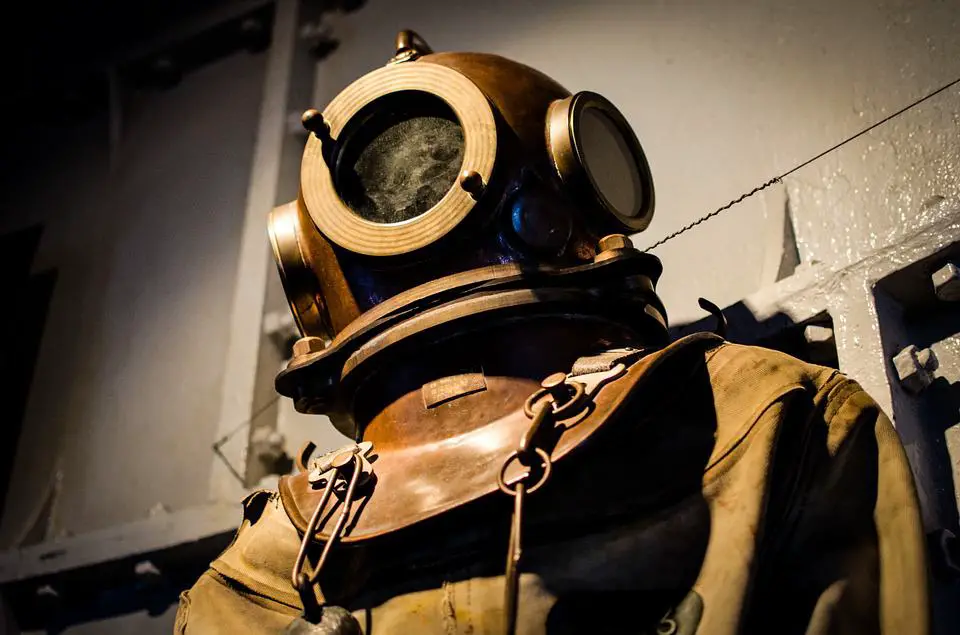 Wetsuits aren't made of a single piece of material, so they need to be stitched together. High-quality wetsuits pay particular attention to the seams. These are the areas of greatest weakness, heat loss and discomfort. There are plenty of different styles of stitching to choose from, and pros and cons for each one. Consider stitching that is durable and flexible. For warmer temperatures, you want stitching that is more watertight for cooler temperatures, and stitching that is more flexible for warmer temperatures.
What Is the 5 mm Reactive Titan Black Wetsuit?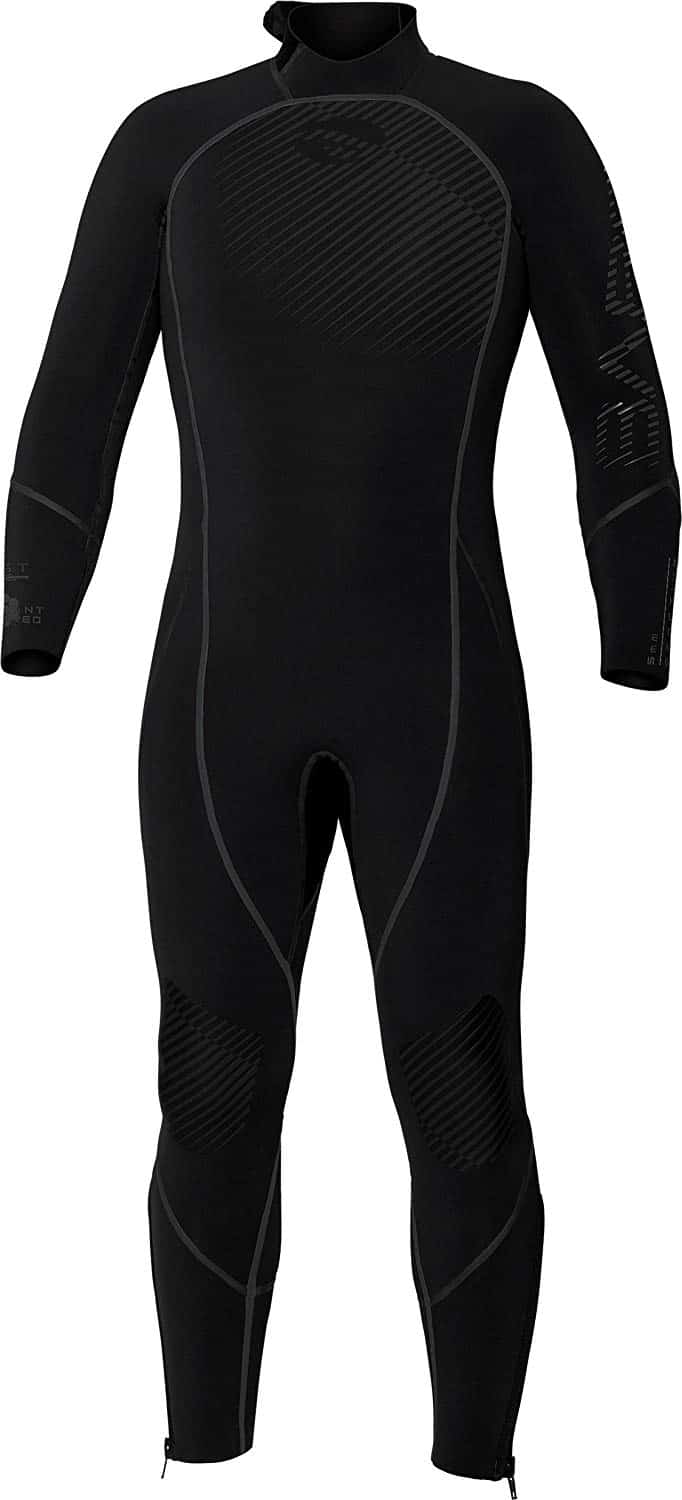 Bare Sports offers this premium wetsuit with a wide range of special features. It's specifically designed to be warm and flexible. From the stitching to the neoprene, this wetsuit offers plenty of great design elements. The Reactive Titan Black series includes the most popular and most premium wetsuits by Bare Sports. Consider these if you are looking for a combination of flexibility and warmth.
Reactive series wetsuits are highly rated, so if you love these features you can also consider the 3 mm or 7 mm wetsuits. Because of the innovative insulation technology, even the 3 mm wetsuit will be warmer than most wetsuits. However, it will be much lighter than the 5 mm version, so you can use this for warmer dives. Thinner neoprene also offers more flexibility and a lower price point.
If you are looking for an option for warmer waters, consider the Bare S-Flex series. These suits are better designed for warm waters, flexible movement and durable, comfortable wear. This guide will compare the Reactive Titan Black wetsuits with other 5 mm suits in order to offer the best comparison options.
Now that you're hooked, take a look at some of the accessories offered by Bare Sports. You can purchase matching 5 mm boots, hoods or jackets for added warmth.
Specifications of the Bare 5 mm Reactive Titan Black Wetsuit
$479.95
5 mm neoprene
3 mm and 7mm options also available
Liquid and taped seams
Infrared technology
Velcro collar
Ankle zippers
Two-year warranty
From head to toe, this wetsuit was created for warmth and strength. It uses Celliant Infrared Technology to keep you warm. This unique design features thermoreactive minerals, which offers the ultimate insulation for the same thickness.
Bare paid particular attention to the seams on these wetsuits. The Reactive Titan Back wetsuit doesn't have any traditional stitches, but uses liquid seams and complete taping to offer a smooth, insulated seam. These wetsuits don't include blind stitching, which is common with wetsuits.
There are plenty of sizes available, anatomically cut for both men and women, so you'll be able to find one that fits you perfectly. It's important to choose an anatomical wetsuit, in order to reduce sagging areas. The back zipper is extra long and designed to offer maximum insulation. There's additional zippers at each ankle, which are an impressive 11 inches long. This helps make the suit easy to put on and take off, while still remaining skin-tight and comfortable. If you are an avid surfer or diver, you know the importance of a durable wetsuit. The Reactive Titan Black wetsuit has durable knee pads that still remain flexible enough for comfortable use.
Unlike a 5/4 mm wetsuit, the Reactive Titan Black uses 5 mm neoprene for every inch of the wetsuit. While this offers more insulation, it makes the wetsuit less flexible than competitors. Consider the range of movement you'll need with your wetsuit.
Pricing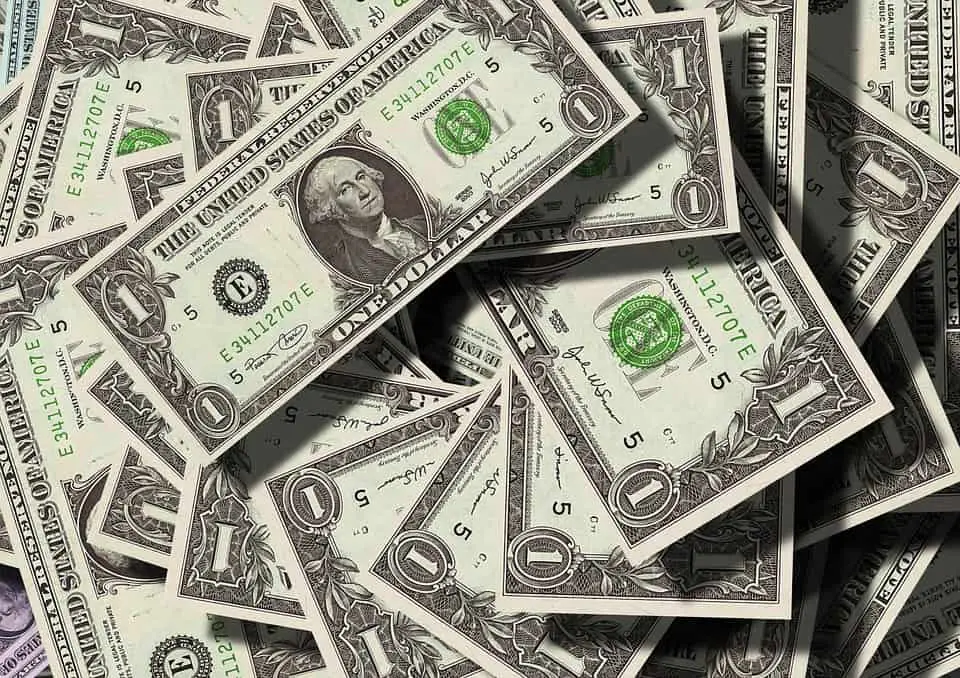 Be prepared to pay anywhere from $90 to $500 for a wetsuit. Quality and materials vary dramatically, so take each feature into account before choosing the perfect wetsuit. Inexpensive wetsuits can be uncomfortable, improperly insulated for cold water and inflexible when compared to more premium suits. Higher priced wetsuits are usually worth the additional expense.
With the price range in mind, you can see the the 5mm Reactive Black Titan wetsuit is one of the most expensive suits on the market. However, it comes with plenty of features to make the cost a wise investment. If you love hitting the waves or diving, you'll want a wetsuit that will keep you comfortable and last for years to come. This wetsuit offers both, and also provides a comfortable range of movement.
However, if you are looking for a wetsuit for an occasional weekend getaway, the Reactive series may be too expensive for your needs. It's also not a great wetsuit for summer beaches in the tropics. Choose this suit for northern expeditions or cooler seasons.
How It Compares
5 mm Reactive Black Titan Wetsuit
$479.95
Ease of Use: 4/5
Build Quality: 5/5
Warranty: 4/5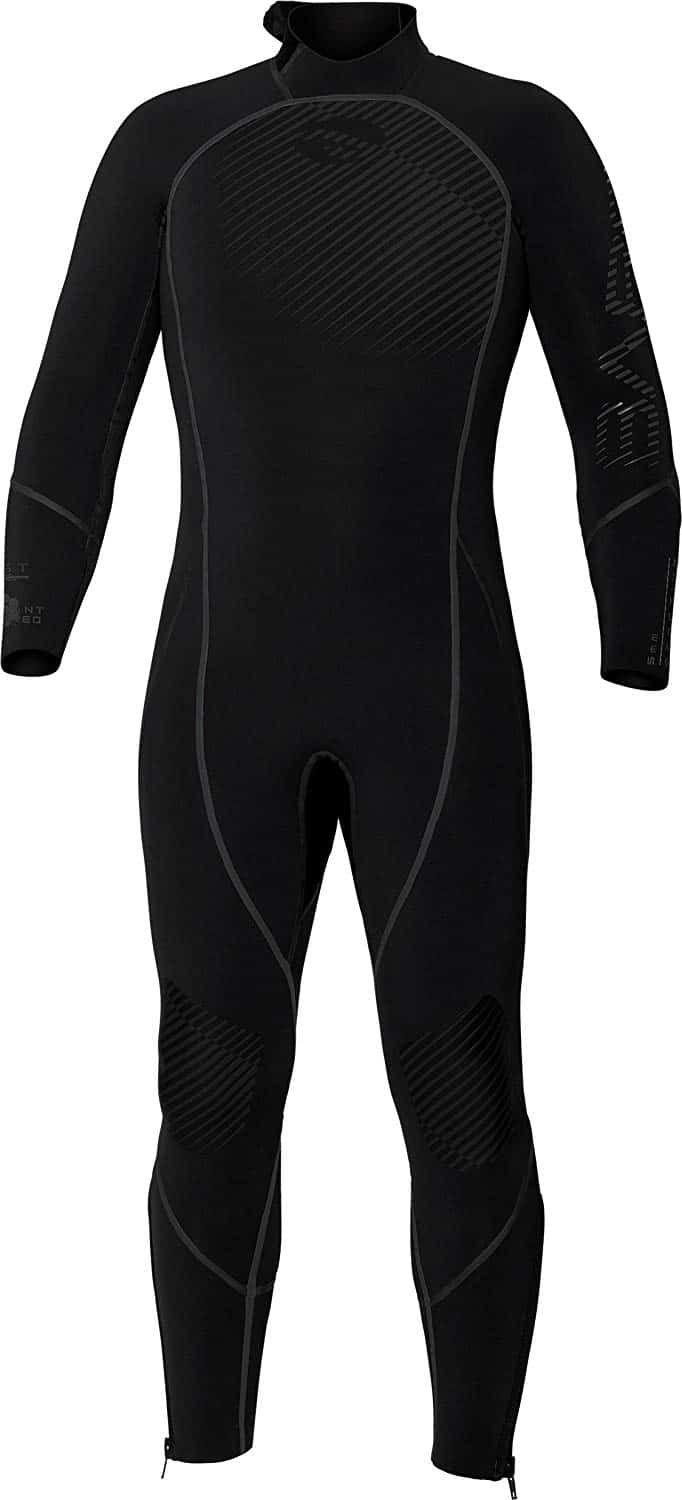 5mm Henderson Thermoprene Wetsuit
$261.99
Ease of Use: 4/5
Build Quality: 3/5
Warranty: 5/5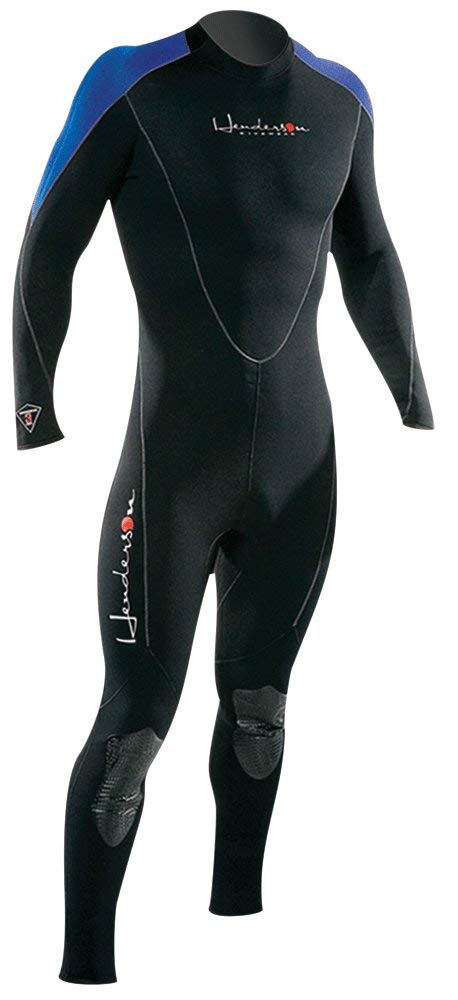 The Henderson 5mm wetsuit offers an excellent bargain on a reasonable wetsuit. Thermoprene is a specialized neoprene by Henderson that offers a balance of insulation and stretch. It's resistant to abrasion and a very durable material for the price range.
This wetsuit has seams that have blind stitching and glue. These seams aren't as comfortable or sealed as the Reactive Black Titan wetsuit, but are more insulated than many other, less expensive suits. The knee pads are also designed to be flexible, and the suit comes in plenty of sizes for men and women. Overall, it's a reasonable wetsuit for its price range, but clearly not in the same price category as the Reactive line. Choose this wetsuit if you are an occasional diver who is still looking for a quality suit.
Waterproof 5 mm Wetsuit
$399.95
Ease of Use: 5/5
Build Quality: 4/5
Warranty: 4/5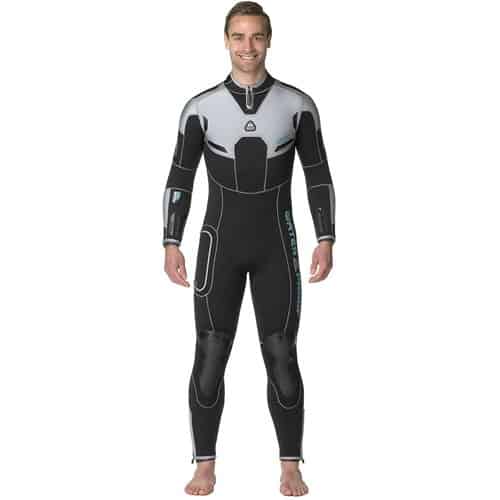 For another premium wetsuit, try the Waterproof 5 mm full suit. The neoprene is durable and offers great insulation, and the knee pads are reinforced as well. However, the seams use blind stitching as well as glue, which makes them less watertight then the Reactive Black Titan seams. Rather than the traditional black color scheme, this suit offers striking silver patterns and lines. The arms and legs remain flexible despite the thickness, and the zipper is designed to be easy to use and insulated. It doesn't offer the same innovative technology as the Reactive Black Titan, but is still a strong choice for a premium-priced suit.
Titan Black Wetsuit Pros and Cons
Pros
Cons
Conclusion
If you're looking for the best money can buy, the Bare 5 mm Reactive Black Titan wetsuit is one of the most premium full suits on the market. Everything from the reactive technology to the glued and taped seams allows this suit to be comfortable, durable and extremely warm. It's perfect for deep dives or cool evenings in the water.
While it's not the best choice for warm weather, this wetsuit is still a great choice for any avid scuba diver or surfer. Consider choosing the 3 mm Reactive wetsuit if you are going in warm waters, or buy both for year-round protection. Beginners may consider a less expensive wetsuit, particularly if you aren't going to use it often. Now that you've researched the Reactive Black Titan wetsuit, you're able to make an informed purchase. Choose the wetsuit that offers the best quality, durability and price for your needs. Once you've chosen the most important apparel for a day in the water, you're one step closer to your next big adventure.
Rating: 4/5