*This post may contain affiliate links. As an Amazon Associate we earn from qualifying purchases.
Can you even imagine the world of diving before wetsuits? Only bizarre devices come to mind: diving bells, gear that looks better suited to outer space, and props from the set of Twenty Thousand Leagues Under the Sea. Sure, some of this equipment might double as elements of your next Steampunk costume, but none are as sleek and efficient as the best scuba wetsuit.
Indeed, today the wetsuit has become the central piece of equipment that unifies divers of the free and scuba varieties. For many dive enthusiasts, the appearance of the wetsuit has become synonymous with their watery passions that a mere glimpse of the suit can send one scurrying toward the nearest, deepest body of water at the drop of a hat.
Many questions abound about the purpose and function of the wetsuit. Which wetsuit is right for beginners? What features should a buyer look for when browsing among different brands of wetsuit? How can one pick a high quality wetsuit from a low-quality wetsuit? Why does one even need a wetsuit? And most importantly, what is the best scuba wetsuit out there on the market?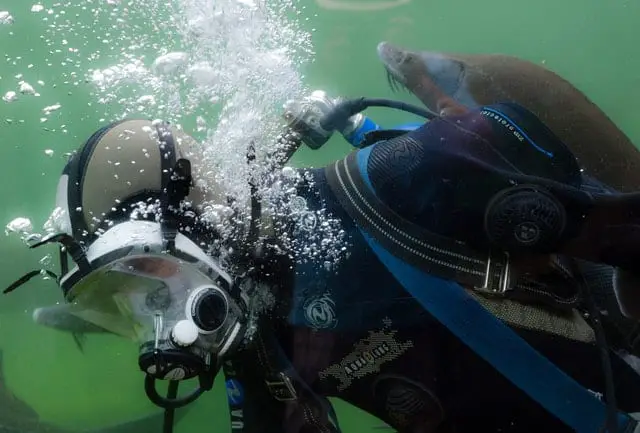 Image Source: Pexels.com
Maybe you are a diving pro looking for an upgrade to your current kit. Maybe you are a first-time diver who doesn't want to embarrass themselves with the wrong equipment. Or, maybe you are a journeyman diver, somewhere in between expert and novice, who has rented their equipment for a while but now wishes to take the next step and own one of the best scuba wetsuits out there on the market.
Comparison Table
[amazon box="B01AKUV7SS,B00WRCRJXA,B001TIASFO,B000KTALJ6,B003CVD8GM,B00G5MKOGW,B008ZFLSDK,B06XCKQMPL,B003ZYEMMU,B00YX9X218,B00WH825Z6,B00OJ00X2C,B07BB1GGM6,B01AKUVEQS,B0716RJS3Q" template="table"]
Where Did the Wetsuit Come From?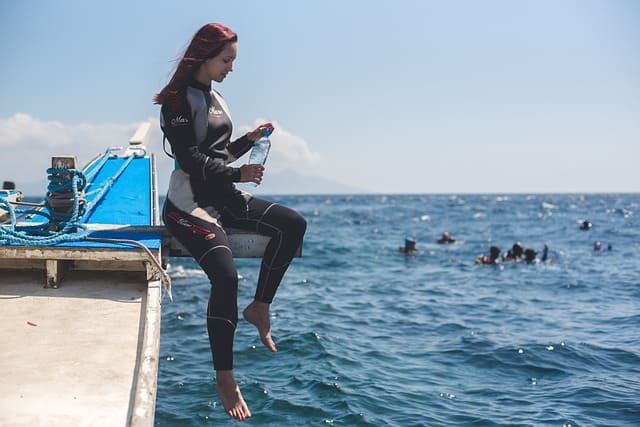 Image Source: Pixabay.com
The modern wetsuit was invented by UC Berkeley's physicist Hugh Bradner. He realized that people could stand having a thin layer of water trapped between the suit fabric and the wearer's skin, as long as the fabric also provided insulation by trapping bubbles in the water alongside the water. The concept obviously worked, and we have Bradner, the "father of the modern wetsuit," to thank for the quite lightweight and surprisingly warm diving equipment of today.
Although, Bradner and his team could not successfully market their design, eventually, a neoprene version of their original concept appeared on the market, and once the surfing craze got a hold of the ability to hang ten even in cold waters, wetsuits sold like gangbusters.
Choosing the Right Scuba Wetsuit
Obviously, price is among the major considerations when looking to purchase some underwater onesies. It won't matter if your wetsuit is name brand if you also have to go into debt to afford it.
Generally, you will get better quality products with more solid warranties backing them if you will spend more. However, often the next step up in terms of price represents a jump in cost that vastly outweighs the added benefits of the premium version. Every item we've chosen for this list passes a certain bar of quality, and20 so do not feel like you are drastically cutting off the longevity of your own scuba wetsuit because you cannot justify the more expensive model.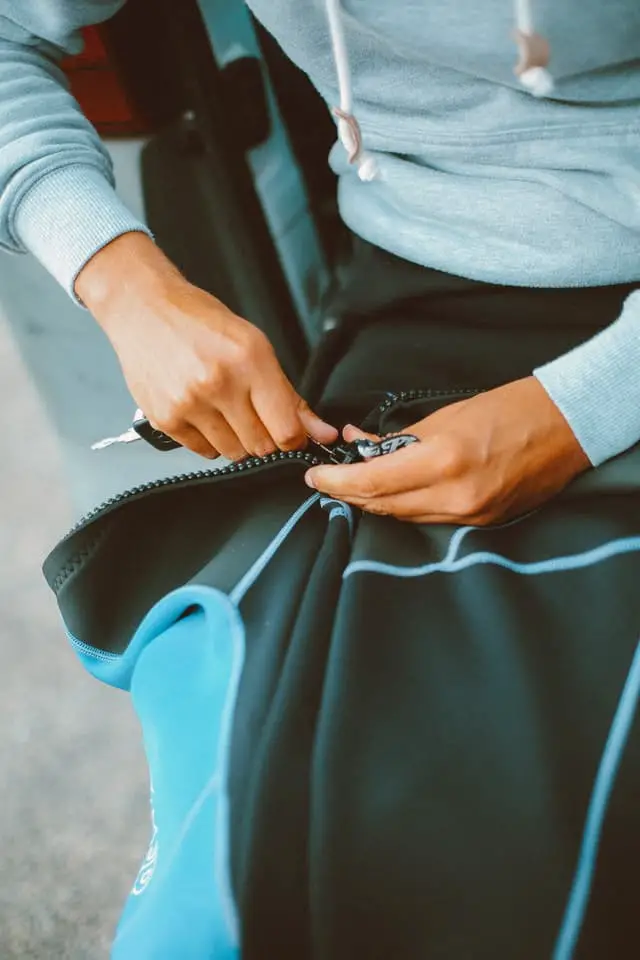 Image Source: Pexels.com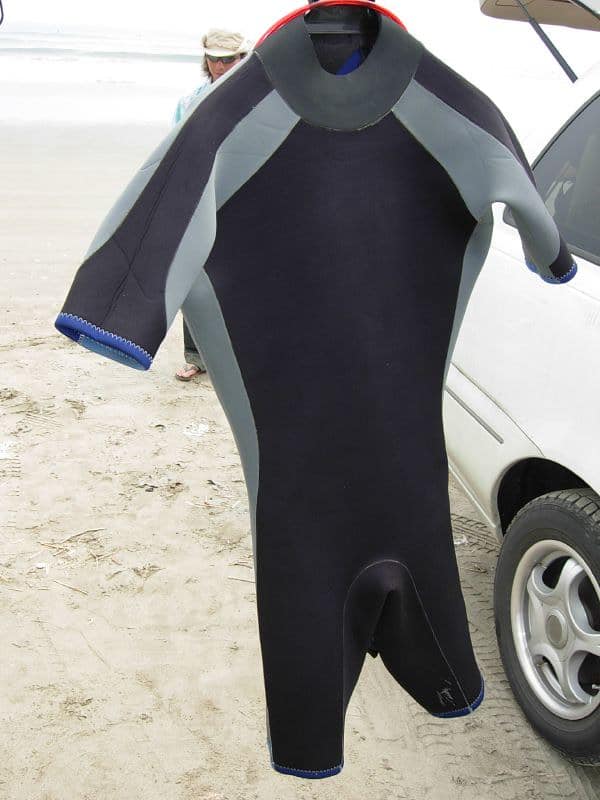 Image: CC BY 2.0, BoaNoite, via Flickr
The biggest overall tip we can offer when searching for the best scuba wetsuit out there is this: Check your thickness. That's right, some wetsuits are thicker than others. The thicker material might sound like less mobility (and that's correct to a certain degree), but ultimately knowing the type of waters you wish to dive in will inform exactly how thick your suit should be.
If you're an experienced diver, you'll already know all about choosing thickness. Feel free to skip to our list of the fifteen best scuba wetsuits if you're well versed in what makes such a suit quality. But for the rest of us (or if you need a refresher), read on to learn more.
How Thick Do I Need My Scuba Wetsuit?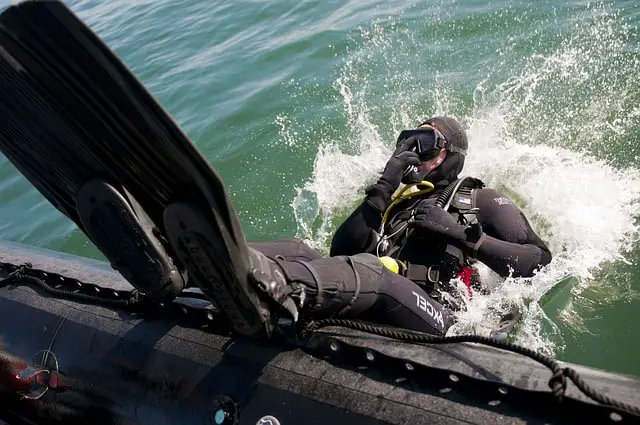 Image Source: Pixabay.com
The short answer is: it depends on the waters you plan to dive into. The colder the water, the thicker the scuba wetsuit you'll need.
Thicknesses of 0.5 mm to 2/1 mm are suitable for waters above 65°. Any colder and you'll need a thicker suit. Temperatures of 62° to 68° require suits between 2 mm to 3/2 mm thick. 3/2 mm to 4/3 mm of thickness will work for water temperatures of 58° to 63°. If you're going colder, say to water that is down to 52°, you'll want a suit thickness of 4/3 mm to 5/4/3 mm.
Those who wish to dive in even colder environments will need a full suit, boots, gloves, and a hood—all taped for maximum insulation. Waters with temperatures of 43°to 52° require suits with 5/4 mm to 5/4/3 mm of thickness. And if you're hoping to join the Polar Bear club and dive in waters below 42°, you'll probably want a suit of 6/5 mm thickness to offset that looming hypothermia.
Why Do You Need a Scuba Wetsuit?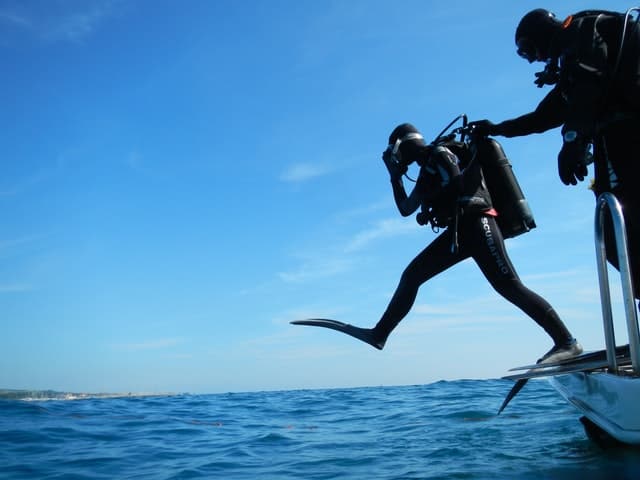 Image Source: Pexels.com
The reasons for needing a wetsuit range from comfort (wanting to be warm at the beach) to survival (they prevent your body from critically cooling underwater). Most people want wetsuits to enable them to explore environments they previously found too uncomfortable without insulation.
Among the many benefits that the modern wetsuit provides are underwater warmth, a hydrodynamic shape to prevent drag, and protection from cuts and knicks. (You'd be surprised how thorny some underwater critters and structures can be.) Plus, scuba wetsuits are skin tight and usually black, and that's sexy.
The wetsuit has enabled new generations of surfers, hands-on marine biologists, military operatives, nautical explorers, and divers. The best scuba wetsuits have rendered cold waters usable wildernesses and paradises.
If you are a diver interested in dipping your toes into water chillier than 65°, you'll most certainly want a wetsuit, as the insulation it provides is not only comfortable but can be lifesaving.
Wetsuits can be expensive. If you do not dive often, the option to rent a wetsuit may save you some money in the short term. In the long run, however, if you get bitten by the diving bug, you'll wish that you had invested in a quality suit you could call your own. That said, the option to rent is often an attractive one. We'll explore this option in the next segment.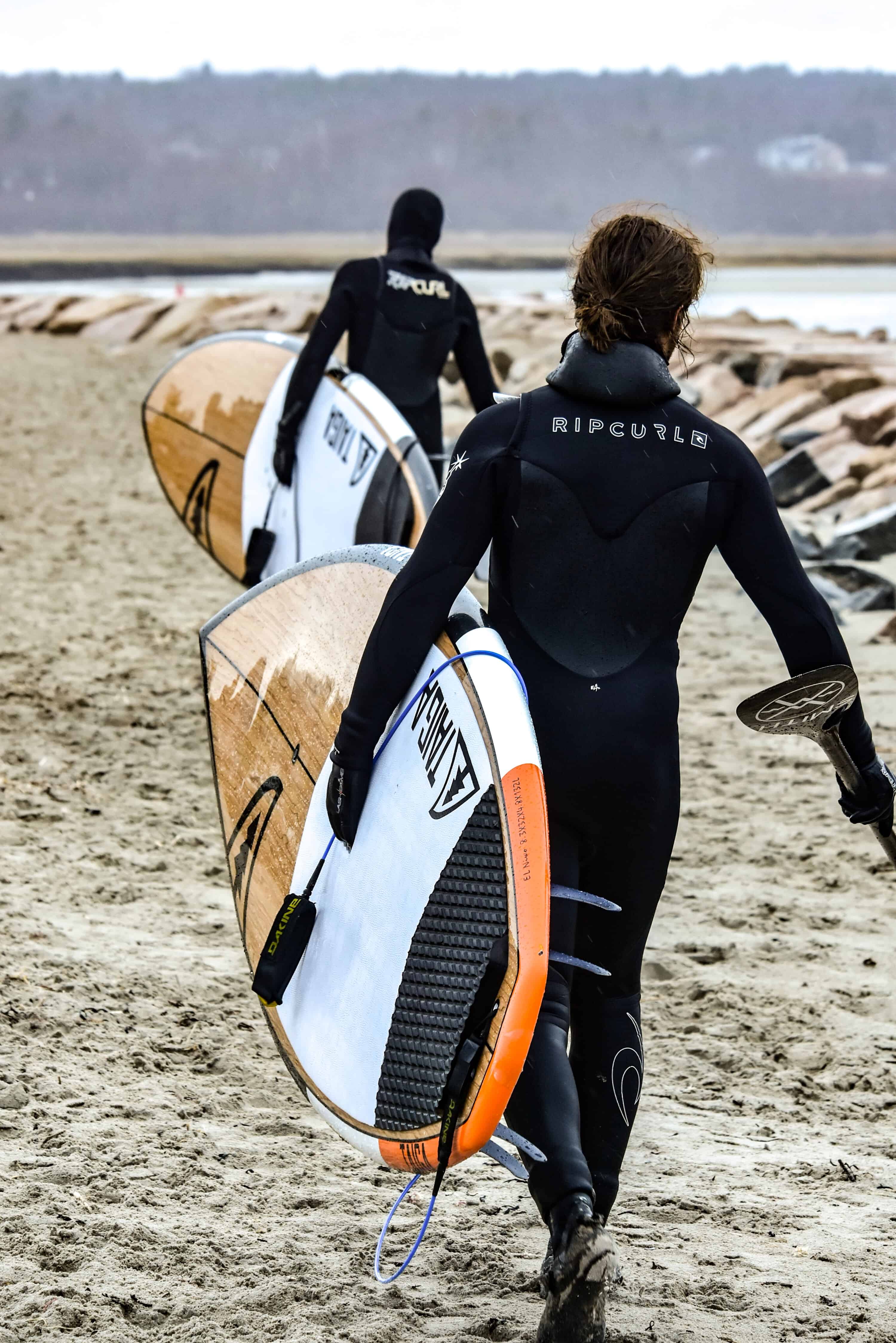 Image Source: Unsplash.com
Renting vs. Buying a Scuba Wetsuit
"Yes, the wetsuit is an amazing piece of technology," you may be thinking, "but I don't dive every day. Why can't I just rent a scuba wetsuit for a day's activity for about forty bucks?" Well, you can. Renting a suit only does cost about $40 to $50 to get into a scuba wetsuit that other people wear when you aren't. It's a perfectly logical cost to pay if you're only diving once in a blue moon.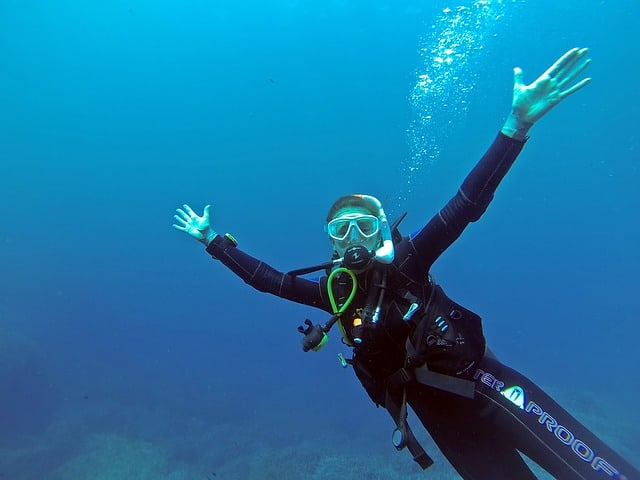 Image Source: Pixabay.com
However, you can purchase a scuba wetsuit of your own for around $200. Quite a bit more than the $50 you might end up paying for a single dive, but in four or five dives, purchasing your own suit will have paid for itself.
Ultimately, the individual diver will know how often their schedule permits them to get out into the great blue yonder. We encourage those who envision four or five dives in their future to go ahead and purchase a wetsuit of their own.
Ah, but which suit to choose? Which is the best scuba wetsuit on the market? We've picked fifteen fine specimens which we proudly present without further ado…
The 15 Best Scuba Wetsuits
We found that wetsuits do not lend themselves to cardinal ordination as much as individual brands and models provide different benefits to different types of users. As such, the following list is unranked, although we will be revealing the best scuba wetsuit among these fifteen considered at the end.
We'll highlight some of our favorite features of each model and hit you with a link on where to find them.
The Scubapro Everflex
[amazon box="B01AKUV7SS"]
This model easily deserves a consideration as one of the best scuba wetsuits on the market. Few wetsuits are more comfortable than the Scubapro Everflex, which utilizes the natural shape of your body to reach new heights of comfort and mobility.
We loved its diagonal back zipper (going from left hip to right shoulder). We found it much more comfortable than the old style of the zipper that runs up and down along your spine. It makes the suit much easier to don and to discard. The fit is just stellar with this model.
Check out the latest price on this item here:
[amazon fields="B01AKUV7SS" value="button"]
The Xcel Thermoflex
[amazon box="B00WRCRJXA"]
A semi-dry suit that is renowned for its longevity. High quality nylon II neoprene adds compression resistance to this durable suit. We loved that all its seams are glued down four times as well as being blind stitched (which just looks great).
Zippers matter among the best scuba wetsuits. The Xcel keeps out a lot more water than conventional zips with its S-Lock back zipping technology. "Water out, warmth in" out to be the Xcel Thermoflex's motto.
Check out the latest price on this item here:
[amazon fields="B00WRCRJXA" value="button"]
​The NeoSport Premium 
[amazon box="B001TIASFO"]
A great suit keeps you warm, feels great to wear, and will last you. The NeoSport Premium will do all three. We found this to be among the most balanced and versatile scuba suits out there. The comfort really sells this one. If you get a chance to slip into one, take that chance.
Check out the latest price on this item here: 
[amazon fields="B001TIASFO" value="button"]
​The Henderson Thermoprene
[amazon box="B001P42NG4″]
One of the best-selling wetsuits on the market, the Henderson Thermoprene is made with a high quality version that nylon II neoprene we all love in our wetsuits. This neoprene provides 75% more stretch than neoprene produced conventionally. We found the Henderson model to provide one of the best quality to price ratios.
Check out the latest price on this item here: 
[amazon fields="B001P42NG4″ value="button"]
​The Mares Flexa
[amazon box="B003CVD8GM"]
Who says a onesie has to be uniform? Not Mares Flexa. The Mares Flexa uses neoprene of various thicknesses all over the body. Why? Because your body is not uniform in its stresses.Different parts bend more often than others. Some parts need mobility while others need warmth and protection. (If you don't believe us, just try wearing your scarf on your feet or your shoes around your neck.) The effective use of this feature makes the Mares Flexa one of the best scuba wetsuits on the market.
Check out the latest price on this item here:
[amazon fields="B003CVD8GM" value="button"]
​The Bare Velocity
[amazon box="B00G5MKOGW"]
Sometimes you need to look for the bare necessities of life. Other times you need to get bare velocity. If the latter case describes you, you may want to look into Bare Velocity wetsuits.Ergonomic suit design, exceptional fit, unbeatable comfort, and it's quick-drying? Is there anything the Bare Velocity wetsuit doesn't do?
Check out the latest price on this item here:
[amazon fields="B00G5MKOGW" value="button"]
​The Hollis Neo Tek
[amazon box="B008ZFLSDK"]
A semi-dry wetsuit, the Hollis Neo Tek is famous for keeping divers warm in cold waters. The suit uses a proprietary LavaSkin inner liner to keep itself exceptionally insulated.And that's on top of the suit's already impressive 8/7/6mm thick anti-compression neoprene composition. Add an easy-on, easy-off zipper and you've got one of the best scuba wetsuits on the market.
Check out the latest price on this item here: 
[amazon fields="B008ZFLSDK" value="button"]
​The Aqualung Aqua Flex
[amazon box="B06XCKQMPL"]
The Aqualung Aqua Flex Jumpsuit uses a special type of neoprene in its construction which outclasses other neoprene by a three-fold stretchiness factor. Yes, it stretches three times better than conventional neoprene. The stretch makes it easy to get on or off even when wet. If you're done fighting your suit to get into it, this may be just the stress relieving option you need.
Check out the latest price on this item here: 
[amazon fields="B06XCKQMPL" value="button"]
​The Cressi Playa
[amazon box="B003ZYEMMU"]
Not all scuba wetsuits need to cover down to one's ankles. Sometimes you just need that extra bit of warmth and to show off your cute calves. That's exactly what the Cressi Playa will allow you to do with their shorty model of wetsuit. The 2.5 mm thickness is perfect for warmer waters and actually provides decent warmth in cooler situations despite it not covering the wearer's calves.
Check out the latest price on this item here: 
[amazon fields="B003ZYEMMU" value="button"]
​The Fourth Element Proteus
[amazon box="B00YX9X218″]
Durable and versatile, we found the Fourth Element Proteus to live up to its mythic name. This diving suit is smartly padded on the hips and shoulders to protect the wearer from the stress of weigh belts and BCDs.
Check out the latest price on this item here: 
[amazon fields="B00YX9X218″ value="button"]
​The Bare Reactive 5mm 
[amazon box="B00WH825Z6″]
The Reactive represents the top of Bare Sport's line of scuba wetsuits. Using an innovative Celliant fabric lining, the suit reflects the body heat of the wearer back inward. This lining is used throughout the entirety of the suit, not just the core, making it one of the warmest items on this list.
Check out the latest price on this item here:
[amazon fields="B00WH825Z6″ value="button"]
​The Beuchat Alize 3 mm
[amazon box="B00OJ00X2C"]
Using supple Elaskin type x6.4 neoprene, the Beuchat Alize is a wetsuit providing incredible against the skin comfort. Plus, it provides great stretch in the chest to ease the user's breathing. Rolled edges at the wrists and ankles help with getting the suit on and off and we really appreciate that feature.
Check out the latest price on this item here:
[amazon fields="B00OJ00X2C" value="button"]
​The Camaro Alpha Pro 3 mm
[amazon box="B07BB1GGM6″]
This semi-dry suit uses extremely stretchy neoprene and a Dry Stretch internal lining that feels like plush. We loved that plush sensation and that the G-Lock zipper on the front was so exceedingly watertight. In addition, this suit can be custom fitted.
Check out the latest price on this item here:
[amazon fields="B07BB1GGM6″ value="button"]
​The Scubapro Everflex 3/2 mm No Zip
[amazon box="B01AKUVEQS"]
The world's first "green" dive suit! The Everflex No Zip uses low-impact and recycled materials with innovatively environmental manufacturing methods. All that and the suit offers everything a top of the line suit would. Plus, it looks sleek and incredible, almost like a spy suit in a sci-fi.
Check out the latest price on this item here:
[amazon fields="B01AKUVEQS" value="button"]
​The Seac Komoda S
[amazon box="B0716RJS3Q"]
Of all the entries on this list, the Seac Komoda S looks the most like a motorcycle suit. Sharing some characteristics with modern body armor, the Komoda S is nonetheless composed of especially stretchy neoprene. Its honeycomb structure allows for maximal heat to be absorbed without sacrificing the mobility of the wearer. Zips in all the places you want it to.
Check out the latest price on this item here:
[amazon fields="B0716RJS3Q" value="button"]
Conclusion
Can you guess which one we found to be our favorite? Perhaps we didn't hide it too well in the article: The Scubapro Everflex 3/2 mm No Zip!Why? Not only is it the most comfortable dive suit we tried on, but it's also doing its part to help the environment.
Featured Image Source: Pixabay.com