*This post may contain affiliate links. As an Amazon Associate we earn from qualifying purchases.
Whether you are a scuba pro or you are seeking a paradise vacation, there are a lot of popular destinations that are diver "must sees." For many, the ocean is a relaxing escape from the stresses of daily life. And while a large part of the world is covered in water, there are some sites that distinguish themselves from the rest of the vast blue landscape as particularly amazing. Below, we have reviewed ten amazing spots that should be on your diving bucket list, regardless of whether you are a scuba pro looking for your next big adventure or a beginner diver just getting your feet wet.
Scuba Community FAQs
Who Should Visit These Sites?
Whether you are a scuba pro or it is your first time diving, many of these destinations are perfect for well-experienced and beginner divers alike. The sites that we have described below have a lot of diving options, from shipwrecks and coastal dives to boat dives and a plethora of marine life; and these options are a great getaway for anyone looking to explore the water. While most are great for the scuba pro or the beginner, some of the sites described are best for advanced divers with a minimum of twenty logged dives— we have made sure to note when this is the case.
What Should You Consider When Choosing a New Diving Destination?
You should consider the location and airtime that it would take for you to get there, as well as the quality of the dive, the variety of the diving spots, and the destination as a whole. You should also consider whether you are seeking a laid back vibe or a busy and entertaining atmosphere. While all of these spots are beautiful, your priorities will determine which spot is the best pick for you.
How Did We Choose the Sites Below?
All of these scuba sites are popular amongst divers and are known for their high-quality diving experiences. While they are renowned as diving "hot spots," there are key factors that distinguish them and support their popularity. We have listed some of the reasons for their high popularity in the reviews below.
What Should You Evaluate before Deciding on a Place?
You should think about your budget and the accessibility of the site. Depending on where you live, some places are easier to visit than others. Also, while some are accessible by plane, others are only reachable by boat. There are a variety of price options within each location, and you can certainly make a diving visit work on a tight budget. Make sure to research economical options, food prices, and diving deals before choosing your spot.
How We Reviewed the Diving Destinations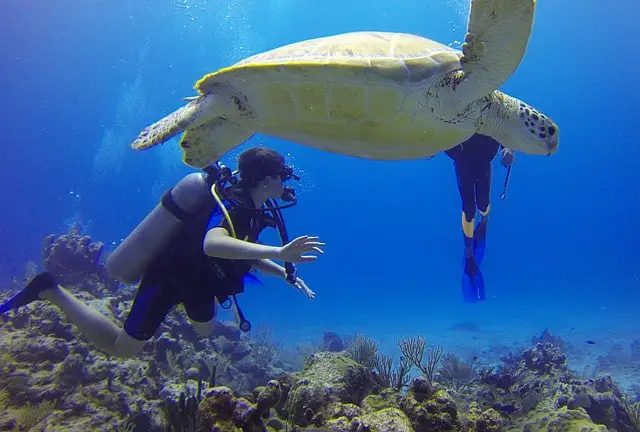 Image from Pixabay
In reviewing these destinations, we considered the variety of the dive sites, the water temperature, the destination outside of the diving factors, and the quality of diving (such as sea life and coral). We have listed the pros and cons for each location, and it was honestly difficult to come up with cons for these snippets of paradise. We hope that our reviews give you some context for why these places are so popular, and we hope that the details listed will help you decide which spot will be your next diving destination.
Overall Price Range of These Diving Destinations
Diving is not a "budget" activity, but you can certainly find reasonable prices and deals within these locations. All of these locations offer a variety of diving packages from different companies, and you can find affordable options that are single day trips or multiple day deals. Further, you can find swanky hotels to cheap hostels in all of these destinations, so you can make your budget work with a little research and planning.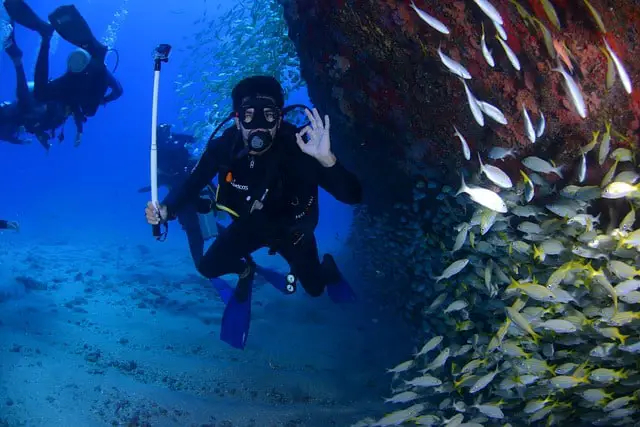 Image from Pixabay
What We Reviewed: Ten Destinations for the Scuba Pro and Beginner Diver
Eilat, Israel

Bonaire

Cairns, Australia

Bora Bora, French Polynesia

Darwin Island, Galapagos

Koh Tao, Thailand

Ishigaki Island, Japan

Tulum, Mexico

Ambergris Caye, Belize

Anacapa Island, California

Eilat, Israel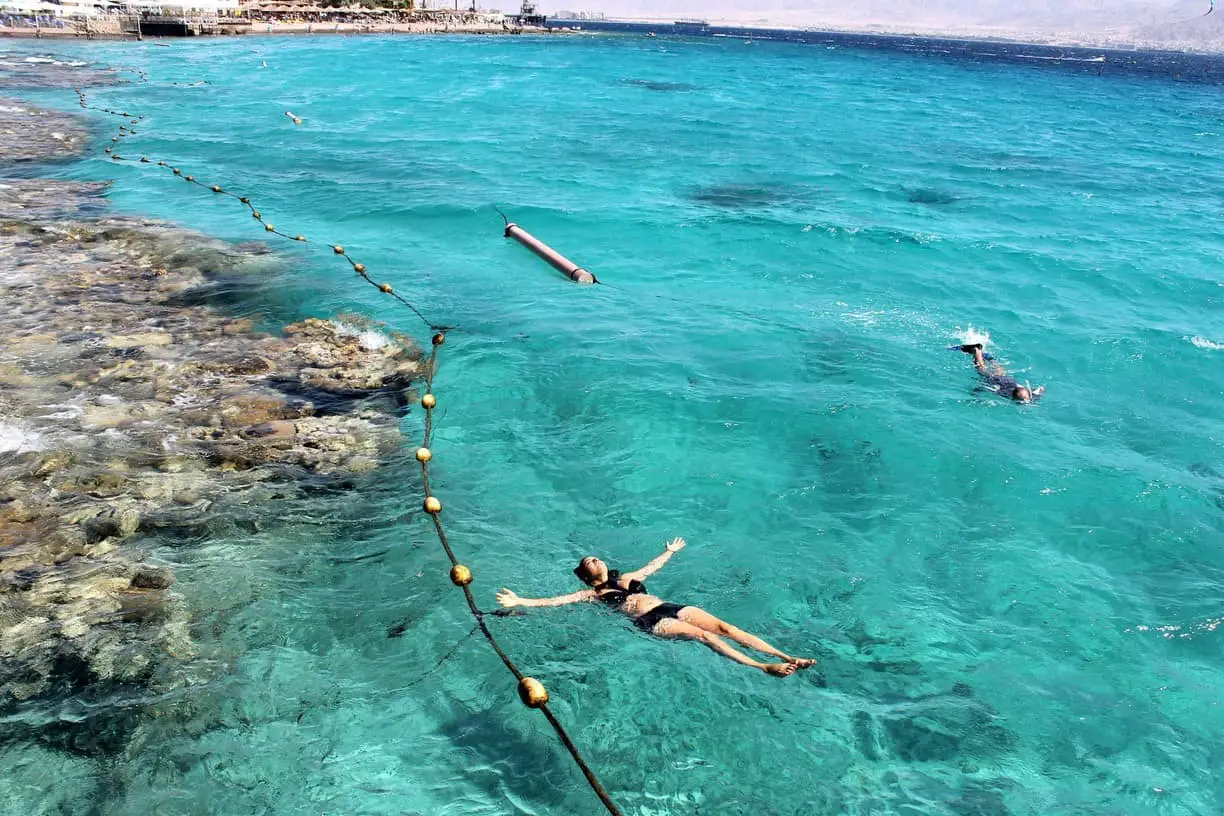 Image from Trover.com
Features
Israel offers a unique diving location that is a favorite amongst divers: The Red Sea. Water temperatures range between 70 and 77 degrees Fahrenheit, and there are few currents, making diving easy for the beginner and the scuba pro. Israeli marine biologists have been spending the last ten years restoring reefs, which makes the area beautiful and colorful.
Pros
Great visibility (up to one hundred feet)

Local restoration efforts make the area extremely vibrant and colorful

Warm waters that range from 70 to 77 degrees Fahrenheit
Cons
Popular amongst tourists

Hot temperatures, even at night, with moderate humidity

Popular holiday destination and popular party area

Bonaire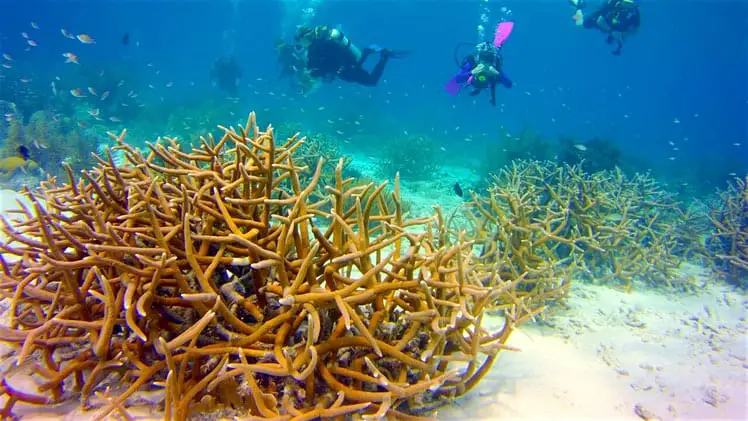 Image from Lonely Planet
Features
Bonaire is a paradise oasis and a much-needed escape from the noise and chaos of everyday life. It is dry season year round with little rain, and the small island of close to 17,000 has been one of divers' favorites for decades. There are hundreds of fish to see, including peacock flounders, seahorses, reef squids, blue parrotfish, ocean triggerfish, and a plethora of beautiful coral.
Pros
One hundred feet of visibility year-round 

$39 cost for one-tank dive is very affordable

Over 469 species of fish to see
Cons
Popular amongst tourists, very busy

Island is only 21 miles long, not a lot to do besides water activities

Relaxing and slow pace of life, not a fast moving culture

Cairns, Australia
Image from Lonely Planet
Features
Cairns, Australia is the "gateway" for the Great Barrier Reef. Not only is it an excellent diving destination, but it is also an awesome destination for extreme sports, such as bungee jumping, white water rafting, hang gliding, and more. Further, there are a ton of cafes, great food spots, hiking, and treetop adventures with lots of stuff to do. The scuba pro will not be easily bored in Cairns.
Pros
Great destination for extreme sports 

Access to diving in the Great Barrier Reef

A lot of diving spots, great for beginner divers and scuba pro divers
Cons
Bleaching is impacting the quality of the Great Barrier Reef

Not a lot of time left for divers to enjoy the beauty of this destination

Expensive and very popular amongst tourists

Bora Bora, French Polynesia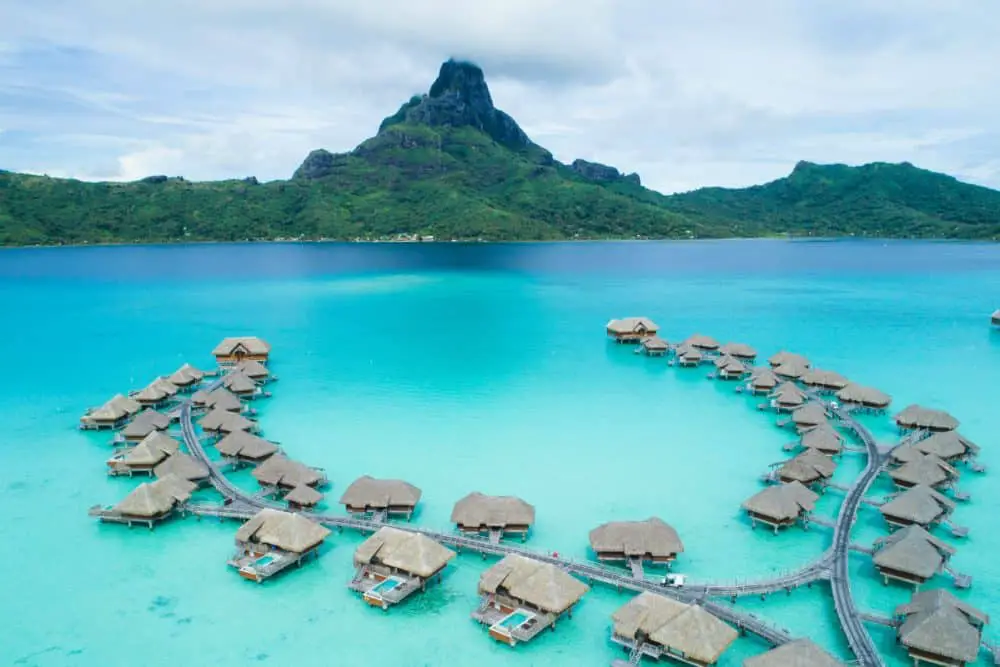 Image from WendyPerrin.com
Features
Bora Bora offers the unique opportunity for you to dive in two different experiences— both inside and outside of the lagoon. It is a great place for beginner and expert divers, and Bora Bora offers over-water bungalows for a relaxing overnight experience after a great day of swimming. The Tapu dive site, just outside of the lagoon, is known as a popular spot to see sharks. You can also see Humpback whales during late July and November, as they migrate through the waters during those times.
Pros
Popular spot to see sharks, with 16 different species

Diving opportunities both inside and outside of the lagoon

Lots of tropical fish, eagle rays, giants clams, moray eels, and sea anemones

Overwater bungalows
Cons
Strong disparity between ritzy hotels and impoverished areas

Not easily accessible

Expensive and not very budget-friendly

Darwin Island, Galapagos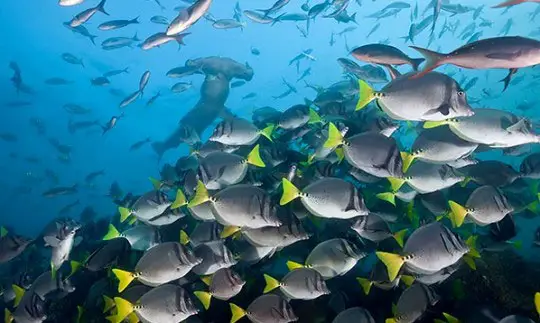 Image from Dive-the-World.com
Features
The Darwin Island in the Galapagos offers unique marine life that can be found nowhere else in the world. You can see whale sharks from late June to October, hammerhead sharks, sea lions, sea turtles, penguins, marine iguanas, and more!
Pros
Unique marine life, with 20% of species not offered anywhere else in the world 

Can see whale sharks from late June to October

Lots of things to do, from beautiful surf to a bustling city
Cons
Strong currents sweep through the area, making it a more ideal spot for experienced divers

Wet season can ruin the summer months with lots of heat and humidity

Isolated location and difficult to reach

Koh Tao, Thailand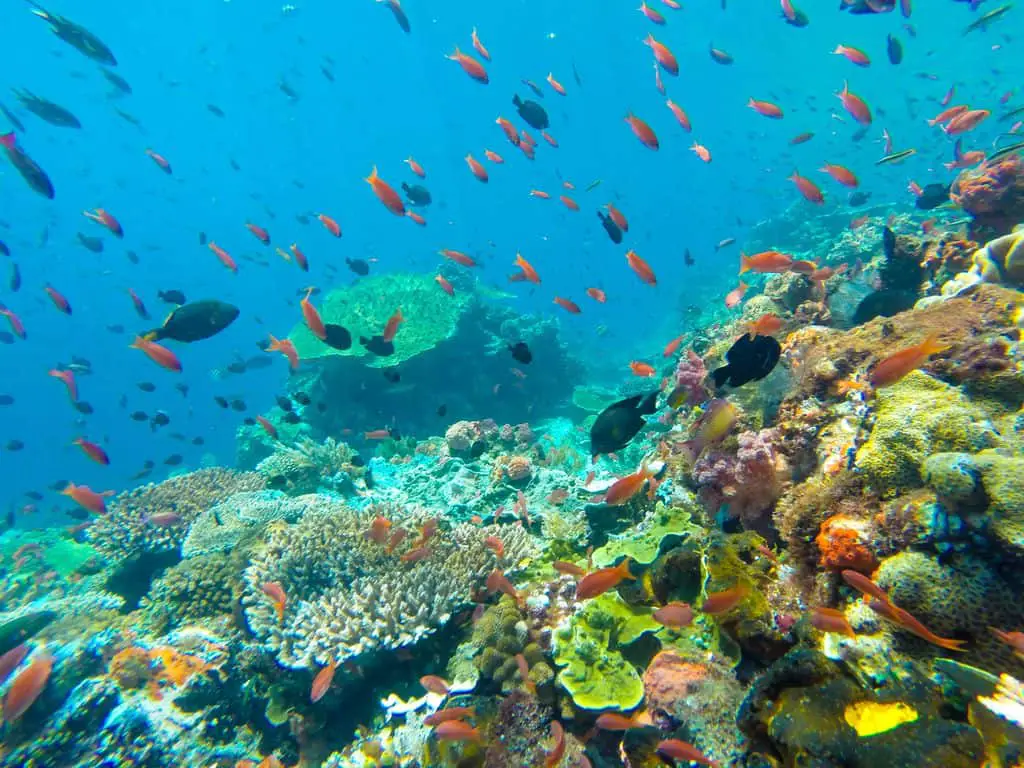 Image from JonesAroundtheWorld.com
Features
Koh Tao, Thailand is perfect for beginner divers that are seeking to check off their Open Water Certification. It lies north of the Koh Samui, which is Thailand's second largest island. This is a great place for shore dives, and it is also just a short boat trip to get to various sea life and the HTMS Sattakut Wreck.
Pros
Great for beginner divers 

Easily accessible for shore dives

Steep hillsides with thick forest and granite boulders, surrounded by crystal clear waters and tropic beauty
Cons
Life of Koh Tao revolves around the water, so it is not known for much outside of diving

Far from the mainland and susceptible to poor weather

Low accessibility to the mainland means high prices for food

Ishigaki Island, Japan
Image from Trover.com
Features
Ishigaki Island is known as one of the best islands for diving in Japan. It is recognized as a popular destination to see manta rays, and less-crowded tourist seasons make this a much easier diving location. While diving is only done in this location between April and November, it is known by many as "the most beautiful place in Japan." It has little to no current, so it is an ideal spot for divers of all levels.
Pros
One of the best islands to dive in Japan 

Popular destination to see manta rays, with 80% likelihood of seeing rays during diving season

Less crowded and easier to dive
Cons
Diving is only done in this location between April and November

Remote island and harder to access

Expensive prices

Tulum, Mexico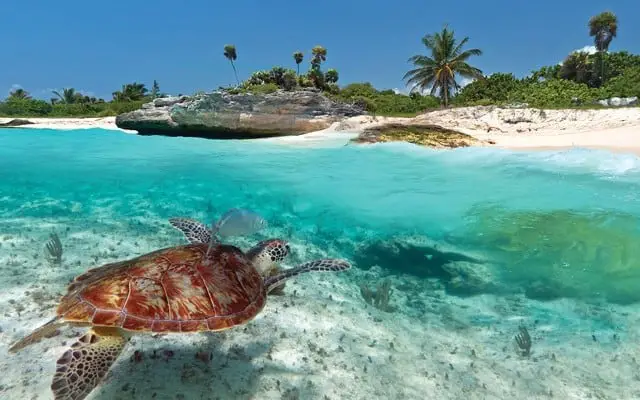 Image from Lincolnshire Life
Features
While many of the locations described above are accessible for beginner divers and those at the scuba pro level, Tulum is a destination for experienced divers. You can experience amazing adventures through cenote and cave diving in this location, making this a "must visit" for those than have logged a minimum of 20 dives. Mayans believed the cenotes were portals to the gods, and the navigating stalagmites and stalactites during your cave dives in Tulum will be a difficult and exciting experience.
Pros
Exciting and adventurous cave diving 

Adventurous dive that will not be boring for experienced divers

Experience Mayan history and culture
Cons
For advanced divers that have logged a minimum of 20 dives

No ability to vertically ascend in an emergency, riskier dives

Cave diving is not as easy as open water diving

Ambergris Caye, Belize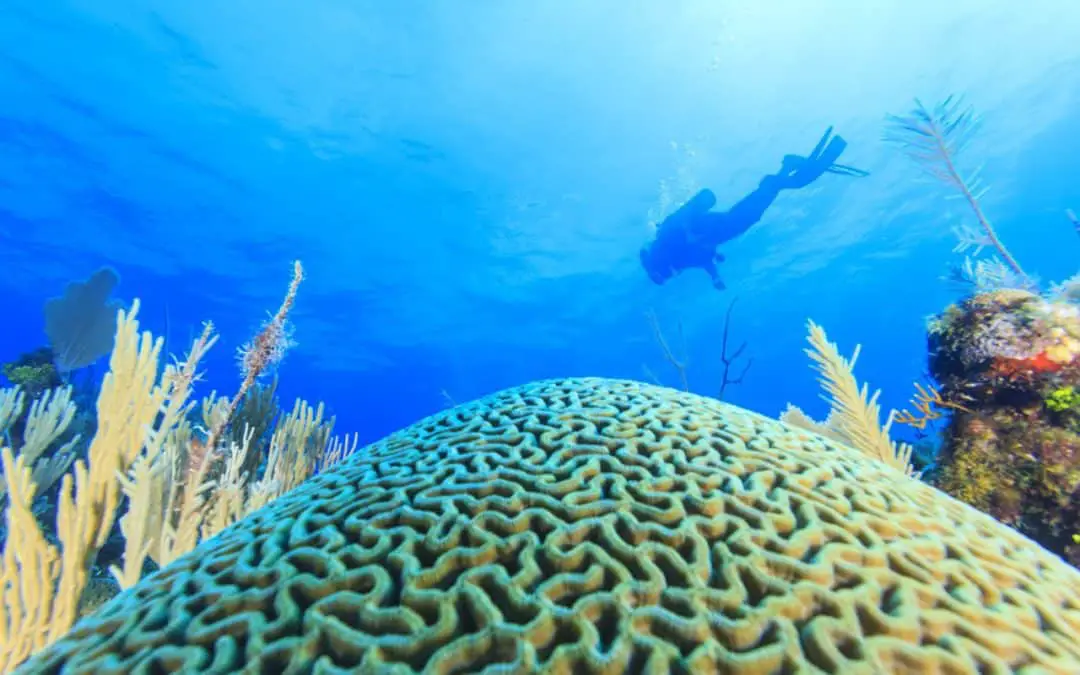 Image from SouthernUtahDiveClub.com
Features
The Ambergris Caye in Belize is a famous site for divers and non-divers, and it is popular for the natural beauty of the location itself. Divers do not visit the Ambergris Caye for the marine life, but rather for the stalagmites and stalactites that can be found in The Blue Hole itself. It has a depth of about 120 feet, and divers should have their Advanced Certification before exploring this natural wonder.
Pros
Well-known for its Blue Hole 

Beautiful stalagmites and stalactites

An adventure for skilled divers
Cons
Not known for its marine life

Only for experienced divers with their Advanced Certification

Accessible by boat over choppy waters, which makes it a hassle to reach

Anacapa Island, California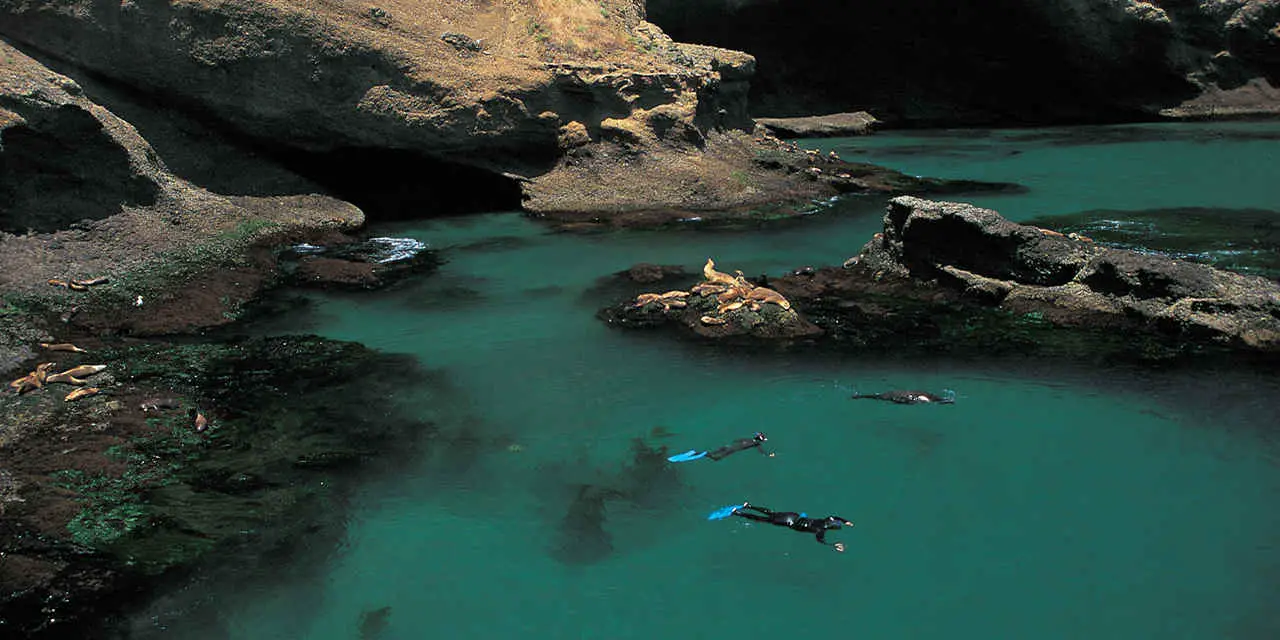 Image from VisitCalifornia.com
Features
Anacapa Island is a thin volcanic island that is about 11 miles off of Port Hueneme in California. It is a habitat for seabirds, great white sharks, a variety of plants and flora, and fish. It has 800+ species, and it is accessible to divers with a range in budget.
Pros
Can see kelp forests, sea lions, sting rays, giant sea bass, shipwrecks, and more 

800+ species to see when diving

Perfect for a quick diving trip
Cons
Cold water temperatures, ranging between 60 and 70 degrees Fahrenheit 

Peak visibility is about 50 feet

Only accessible by boat
The Verdict
You cannot go wrong with any of the dive sites described above. If you are an advanced diver, you should consider exploring the caves and cenotes in Tulum, Mexico or the stalagmites and stalactites of Ambergris Caye in Belize. If you are a beginner diver, you should consider visiting Ishigaki Island in Japan to see the manta rays or Koh Tao, Thailand and enjoy the shore accessible dives. While Tulum and Ambergris Caye are best for advanced divers, many of the sites are great options for you if you are a scuba pro or a scuba beginner.Whichever you choose for your next adventure, you should definitely add all ten to your bucket list of dives.