*This post may contain affiliate links. As an Amazon Associate we earn from qualifying purchases.
Image ​S​​​​​​ource: Pexels
Freediving is a challenging and thrilling pastime. Divers head under water with no breathing apparatus for extended periods of time. The sport requires dedication and training from its practitioners, but offers a myriad of rewards. Performance Freediving International invites divers of all certified levels to Deja Blue at Grand Cayman.In addition to world class training and education, PFI offers divers an experience of a lifetime at this annual event. Reach your personal best, compete against new friends, and learn more about diving and ocean conservation at Deja Blue.The warm blue waters around Grand Cayman are ready to be explored and PFI will make sure that you can push your limits in a safe and supportive environment.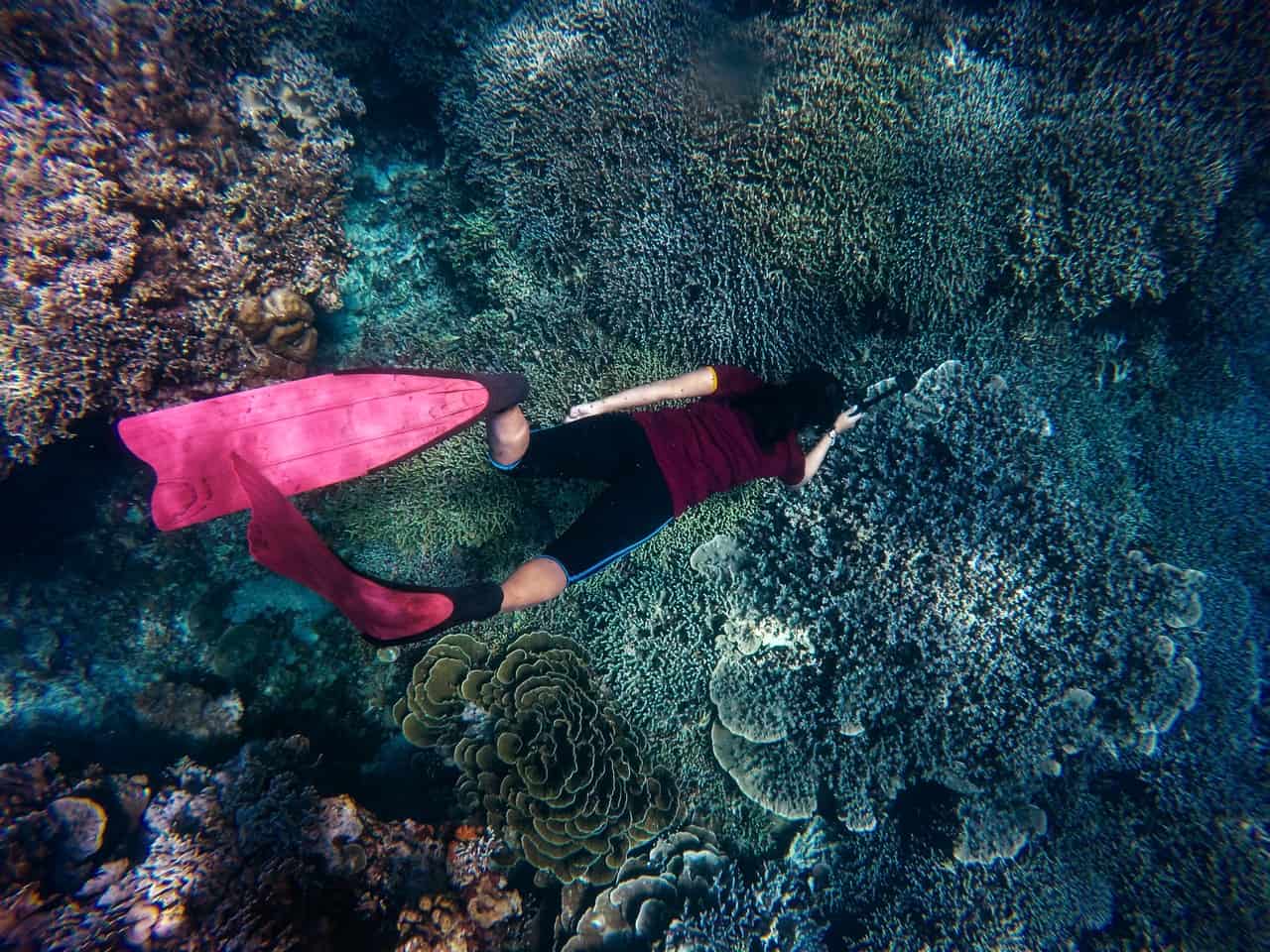 ​Image via Pexels
What Is Deja Blue?
Deja Blue is an annual freediving event hosted at Grand Cayman by Performance Freediving International. The event is broken into two sessions, a two-week training event and a third week of competition events.
In 2019, this event will be hosted from April 21 to May 13. Divers are welcome to join the event for one week, two weeks, or all three weeks and competition is completely optional.
At Deja Blue, each week there will be 5 depth, unlimited static sessions, and 2 dynamic apnea sessions.
Divers are welcome to run the third week of the event exactly the same as they did during the two-week training camp, without worry of being impacted by competition. At any time during the third week, divers can choose to throw their hat in the ring and get competitive, no pressure! Many athletes join PFI at Grand Cayman Deja Blue with the sole intent of growing their own skills and hitting their own personal bests.
Above all, Deja Blue is about learning and having fun. PFI's team is there to assist divers with skill building, course setting, safety protocols, and shuttling to and from accommodations. The event is about enjoying the sport, stress free, while having a great time.
Depth Sessions
Divers will be able to set their own depth goals during depth sessions. PFI uses various safety protocols, including lines, scooters and inflatable bags to back divers up, allowing divers to push their limits without fear.
Safety staff are trained and drilled on protocols daily and are responsible for knowing each diver's goal and ability level. Explore the warm and beautiful waters around Grand Cayman with the knowledgethat you are in good hands, even if you can't complete a dive. During week three, divers who choose to compete will be judged on the depth of dive.
Static Sessions
Static sessions are simply timed breath holds underwater. They can be performed either floating on the water's surface or standing on the bottom of the pool. Divers will challenge themselves to increase the length of time they can stay under and will find themselves creating new goals every day.
In the third week, divers who choose to compete will be ranked based on the length of time they stay under.
Dynamic Apnea Sessions 
At Deja Blue, dynamic apnea sessions are hosted in a 25 meter pool. In these sessions, divers challenge themselves to swim as far and long as possible in one breath, under monitored conditions.
PFI's safety instructors are on the scene continually to assist and educate divers. During week three, divers who choose to compete will be ranked against each other based on the horizontal distance of the dive.
Competition Week
During competition week, only divers who have interest in competing will be affected. Athletes who are looking to continue training will be completely un-hassled by points, judges or cameras. For families, there is even a kids' diving competition.
The end goal of competition week is to have fun! Through challenging yourself to do better, you can achieve more as a diver and unlock your potential.
Competition is friendly and light hearted, and divers can choose which events they wish to compete in, and which they don't.
About Performance Free Diving International
Performance Freediving International, or PFI, was founded in 2000 with the mission of offering the best, most innovative scientific and training information available to divers.
Founded by Kirk Krack, PFI has worked with over 10,000 people to increase diving safety awareness and diving skill. The client pool has included movie stars, U.S. Special Forces, and people just like you.
Additionally, PFI has alliances with DAN (Divers Alert Network) and NAUI (National Association of Underwater Instructors) and has been instrumental in helping those organizations build knowledge and skills for improved diving and response operations.
A Safe Diver Is a Good Diver
PFI prides itself on its strict and rigorous safety standards and dive protocols. The theory is that when a diver feels safe underwater, they can achieve more than they imagined possible. 
Making safety second nature allows divers to feel at ease in the water and achieve their goals. Calm and experienced coaches help divers to improve their performance on every run.
Deja Blue Safety Protocols
During depth dives, divers are met with 4 levels of safety. The most shallow safety, surface safety, is the last check on diver safety. Once a diver surfaces, the safety watches the diver for signs of hypoxia and, during training sessions, coaches in recovery breathing. The next depth safety is
  encountered on the return to surface at one third of the target depth. This safety is there to evaluate each diver and know their limits. This level of safety must understand the diver's speed and what time the diver should hit that point in the dive. If a diver doesn't make the checkpoint, something might be wrong.
The third level of safety is scooter safety. Scooters accompany the diver for the entire dive, starting when the diver enters the water and ending when the diver surfaces safely. If at any time during a dive, the diver signals that they cannot complete the dive, the scooter safety will assist the diver to quickly return to surface.
Finally, the fourth level of safety is re-breathers. Re-breathers dedicate their time and energy at the deepest levels of the dive, and should a diver signal that they are in trouble, re-breathers swim to the diver and attach an inflatable bag. This bag is then pressurized with a CO2 can and the diver is assisted to the surface quickly and without expending any more of their own energy.
Breathing and Surfacing
Throughout the sport of freediving, the breath is a most precious commodity. Depressurizing, equalizations at depth, grouper calling, proper head positioning, and acclimation to deeper pressure changes are all important, vital techniques. Divers are encouraged to practice breathing techniques with surface safety staff during any event.
Divers are also allowed to take out scooters for the expressed purpose of conserving their own energy, allowing them the freedom to practice depth techniques in a rested state.
PFI Events and Courses
PFI hosts multiple events each year in some of the world's most beautiful settings. Divers can take advantage of courses in recreational diving, professional level diving, ocean hunting, and ocean survival.
Courses are hosted in places like Kona, Oahu, Palm Beach, San Diego and Grand Cayman. PFI also works professionally with companies like Go Pro in order to help expand ocean life awareness.
Why You Should Go
Image Source:  pixabay
Divers are encouraged to attend Deja Blue for one important reason- it's fun! Beyond that, the Deja Blue training camp allows for personal growth and an introspective journey inward. The PFI diving community is full of hundreds of talented athletes who challenge themselves to be better every day. These athletes have a connection with the water and an understanding with the breath. Just like you, divers from around the world come to Deja Blue to seek a better dive experience.
Prizes and Activities
Deja Blue is sponsored by some great companies this year, and participants can thank them for the welcome gifts and prizes that will be awarded. Each diver will receive products from Reviv, Wanderlust and Deliverance.
There will be complimentary yoga classes hosted by Bliss Yoga, optimized for divers. Beverages will be served at the closing ceremony from 19-18 Brewing. Raffles will also be available for athletes and safetys.
At the end of competition week, winning athletes will receive prizes gifted to PFI from this year's sponsors. After all, it's not a competition without a reward.
1st Place Men's and Women's winners will receive a Paralenz camera and WaterLust gift certificate

2nd Place Men's and Women's winners will receive a Custom Oceaner/Yamamoto wet suit and OMER Computer

3rd Place Men's and Women's  winners will receive a Stock Oceaner/Yamamoto wet suit and OMER Carbon Fins
In addition to the adult training camp activities and competition, there are kids events and staff support for young divers. Even spectators have a blast at Deja Blue. Join PFI at Deja Blue Grand Cayman from April 21 to May 13. You will be amazed at what you can achieve!
Conclusion
By now, you should be excited to join the fun at Deja Blue this year. There are so many reasons to continue on the journey of freediving; the connection to the ocean, your connection to yourself, new found friends, and stronger, healthier lives. At Deja Blue, PFI will be honored to assist you on your freediving quest, whatever you skill level and goals may be. From family friendly events to world class accommodation, Deja Blue has it all.
Grand Cayman is a fantastic place to host such and event with its warm, clear waters. Meet athletes from all over the world in this picturesque setting and head over to the various daily events aimed at improving your freediving skills. Whether you can stop in for just one week or all three, the experience of Deja Blue is incomparable. With the best trainers, safety protocols and service, your only job at Deja Blue is to show up and focus on your diving.