*This post may contain affiliate links. As an Amazon Associate we earn from qualifying purchases.
Have you tried Bonaire diving? Bonaire is one of three Dutch owned islands which are located in the Caribbean off the coast of South America. Many consider Bonaire diving to be among the best diving experiences in the world. The island features great weather, beautiful clear waters, and a myriad of dive sites and activities appropriate for experienced and inexperienced divers.

An Introduction to Bonaire Diving
image via Pixabay
Many people have described Bonaire as the "Diver's Paradise" due to the variety of dives it offers. Though the island is small, only about twenty-four miles long and five miles wide, it offers divers the opportunity to explore historical wrecks, steep walls and shallow reefs and to see all sorts of marine life.

The Best Times of the Year to Dive
The island's official peak season is from December through April. However, one of the biggest advantages to Bonaire diving is that there is never really a bad time of the year to make a visit and go diving. May through August is considered to be the windy season; while November through January is known as the rainy season.
However, rainfall is usually not heavy. Though there may be an occasional rainy day or two in November or December, rain is typically limited to brief morning showers. Every eight to ten years, there is a peak year that experiences two to three times the normal amount of rainfall. The southern Caribbean location means that the water temperature is warm all year round. The water temperatures average about eighty degrees Fahrenheit.
Air temperature is typically seventy to eighty degrees Fahrenheit at night and eighty to ninety degrees during the day. However, with trade winds and only moderate humidity it rarely feels as hot as it actually is. The terrain and climate are generally comparable to southern Arizona.
Bonaire diving conditions vary by time of day, month and year. However, the shape of the island means that there are some constants. While eastern trade winds are regular, there is a natural shield on the west side of the island. This creates several protected dive sites that are always accessible. Inexperienced divers can enjoy calm, clear, gentle waters on this side of the island. With additional planning, it's possible to dive on the northern and eastern sides of the island as well. 
These dives are more difficult, but they see far less traffic and therefore give divers the rare opportunity to see huge sponges, coral heads, sea fans, and fish. The waters of Bonaire are the typical clear, turquoise blues for which the Caribbean is known. The clarity of the water improves as divers get further from the coast.

Types of Dives Available
As previously mentioned, Bonaire diving is notable for offering a variety of dive sites, meaning that visitors can easily switch back and forth between different types of dives. Why chose between exploring a sunken wreck or seeing a coral reef when you can do both on the same day? Most resorts ask their guests to attend a quick diving class that addresses preserving local reefs. After that, visitors can rent a vehicle and see what Bonaire diving has to offer. For those who do not want to rent a car or a truck, there are bicycles, motorcycle and scooter rentals as well.
Shore Diving
image via Pixabay
This is one of the most popular kinds of Bonaire diving because it offers divers the freedom of being able to dive whenever they want on their own schedule. Visitors can identify local diving sites by yellow rocks with the specific name of the dive site painted on the rock. At that point, just grab your equipment and head down to the water with your dive buddy.Know that most of Bonaire's coast is Ironshore beaches rather than sandy beaches. This means that the beach consists of jagged limestone that can sometimes make for some difficult shore entries.Some of the best shore dive spots include:
1000 Steps
Here, you can take a staircase down to the water. It's actually only sixty-four steps, but divers frequently joke that the climb back up the stairs feels like a thousand steps!
Karpata
Featuring beautiful coral and ship anchors. Karpata is known for its good visibility and panoramas, making it a popular destination for photographers.
Angel City
A fascinating double reef formation in which a sand channel separates two different reef systems, Angel City takes its name from the French angelfish that live there. Other inhabitants of Angel City include parrotfish as well as a variety of garden eels and stingrays.
Oil Slick
Bonaire recommends this as a boat dive, but shore divers can use a steel ladder leading to the water from the shore. The site was once proposed for an oil storage terminal. Divers often seen large schools of barracuda here.
Boat Diving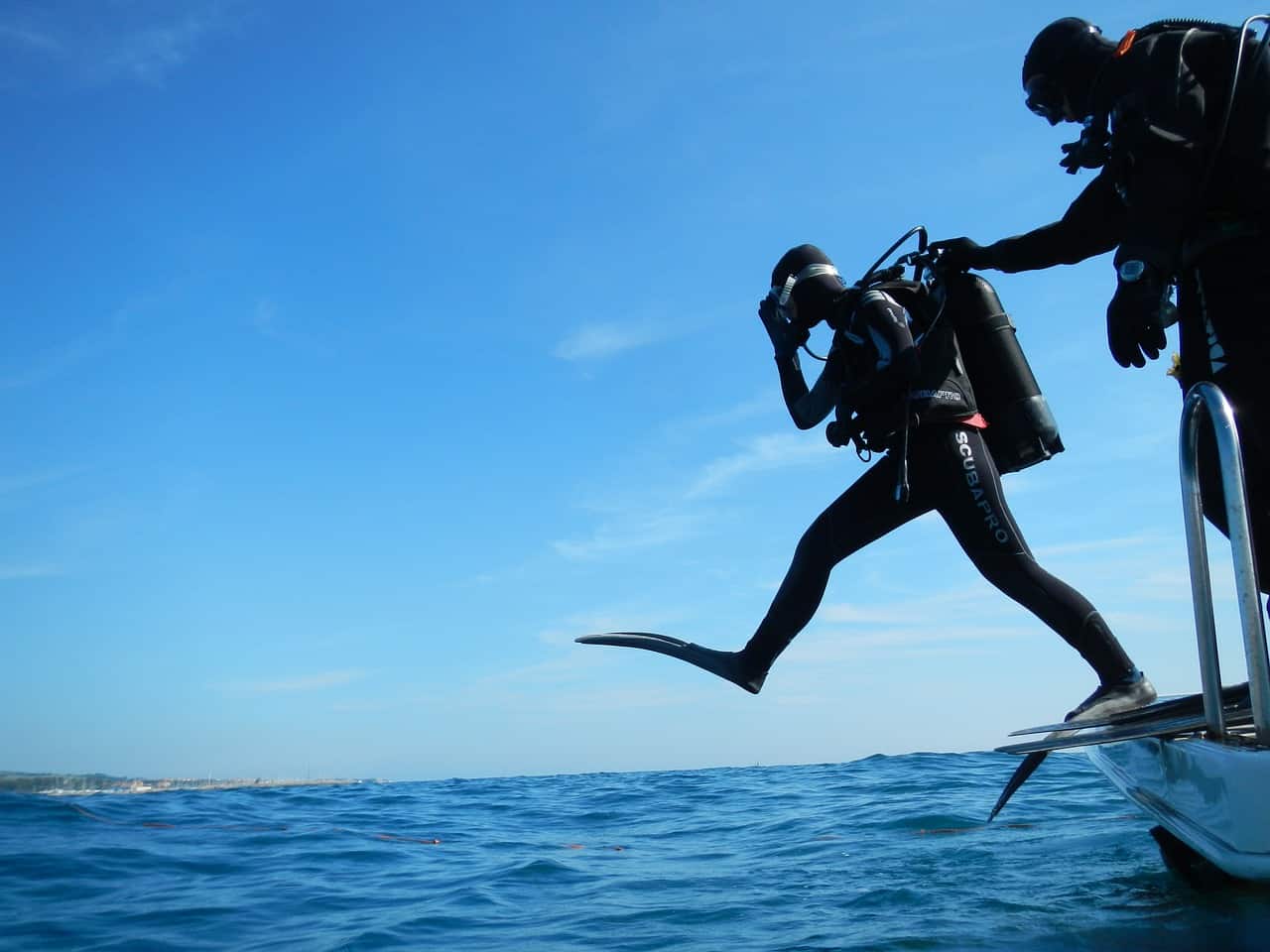 image via Pixabay
Some of Bonaire's best dives are not immediately accessible from the shore. Bonaire offers many opportunities for boat diving as well. Visitors can take a boat to Klein Bonaire: an uninhabited island of the central west coast of Bonaire that is home to a variety of reefs that are filled with life. Klein Bonaire encompasses over 1500 acres. It is a reserve and sea turtle hatchery, so it also offers divers a chance to see sea turtles.Northern Bonaire can also only be accessed by boat. These dive sites feature beautiful coral gardens jutting up against cliff walls.
Wreckage Diving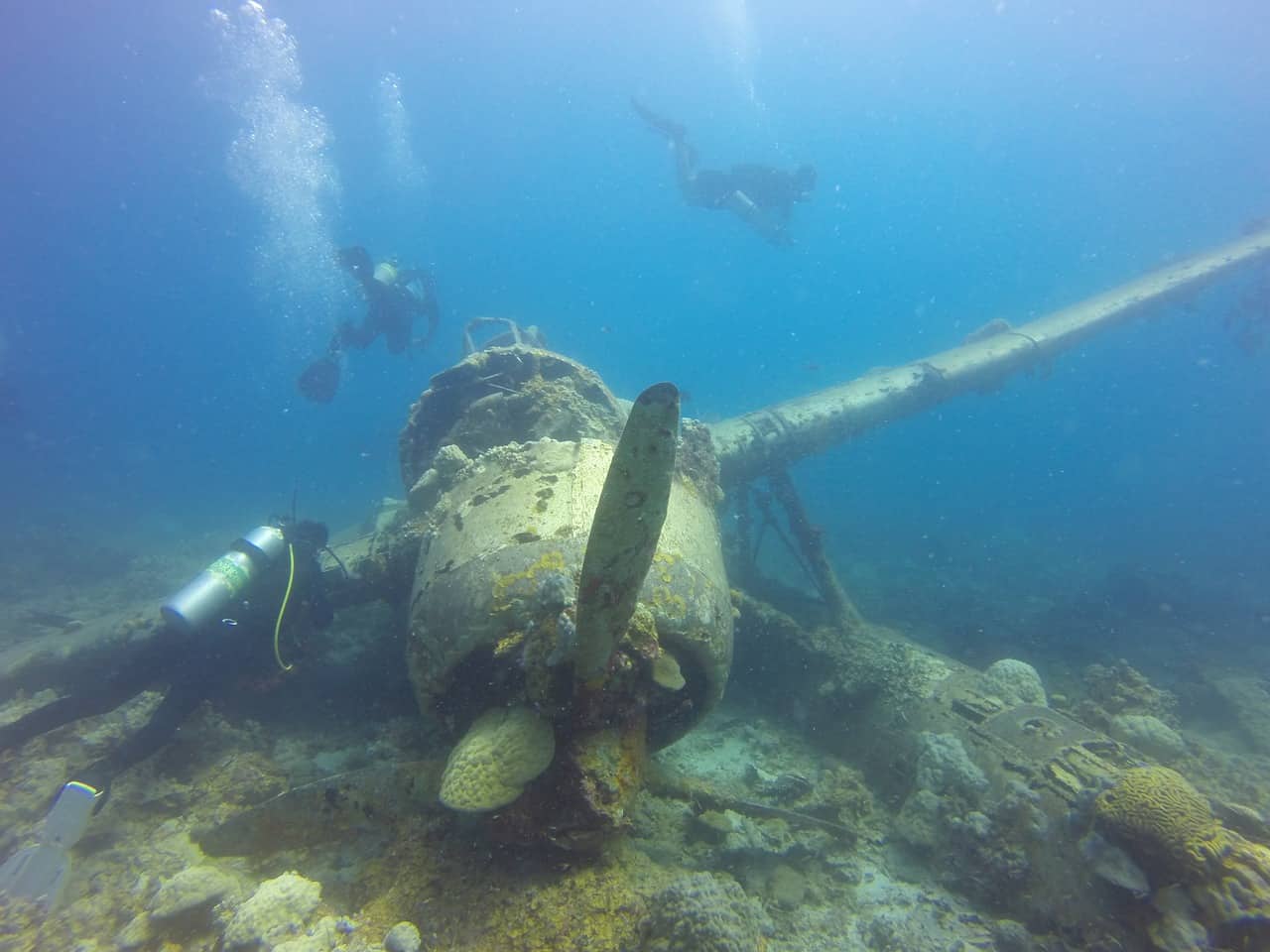 image via Pixabay
One of the most interesting Bonaire dives is the Hilma Hooker, a historical wreck that sunk in 1984 off the coast of Bonaire. This was a cargo ship that was used to smuggle drugs. It was confiscated by law enforcement authorities after 25,000 pounds of marijuana was discovered in a false bulkhead. It was detained for many months while law enforcement searched unsuccessfully for the owner of the vessel.Eventually it took on water due to neglect and sank. The wreck of the Hilma Hooker now sits beneath a hundred feet of water, between two coral reef systems (Angel City). It is over two hundred feet long, and it acts as an artificial reef that offers divers a lot to explore. The development of coral on the sunken ship gives us an idea of how long hard corals might take to recover from damage due to storms. Bring a diving light to look through portholes and swim through and see all the marine life.
Night Diving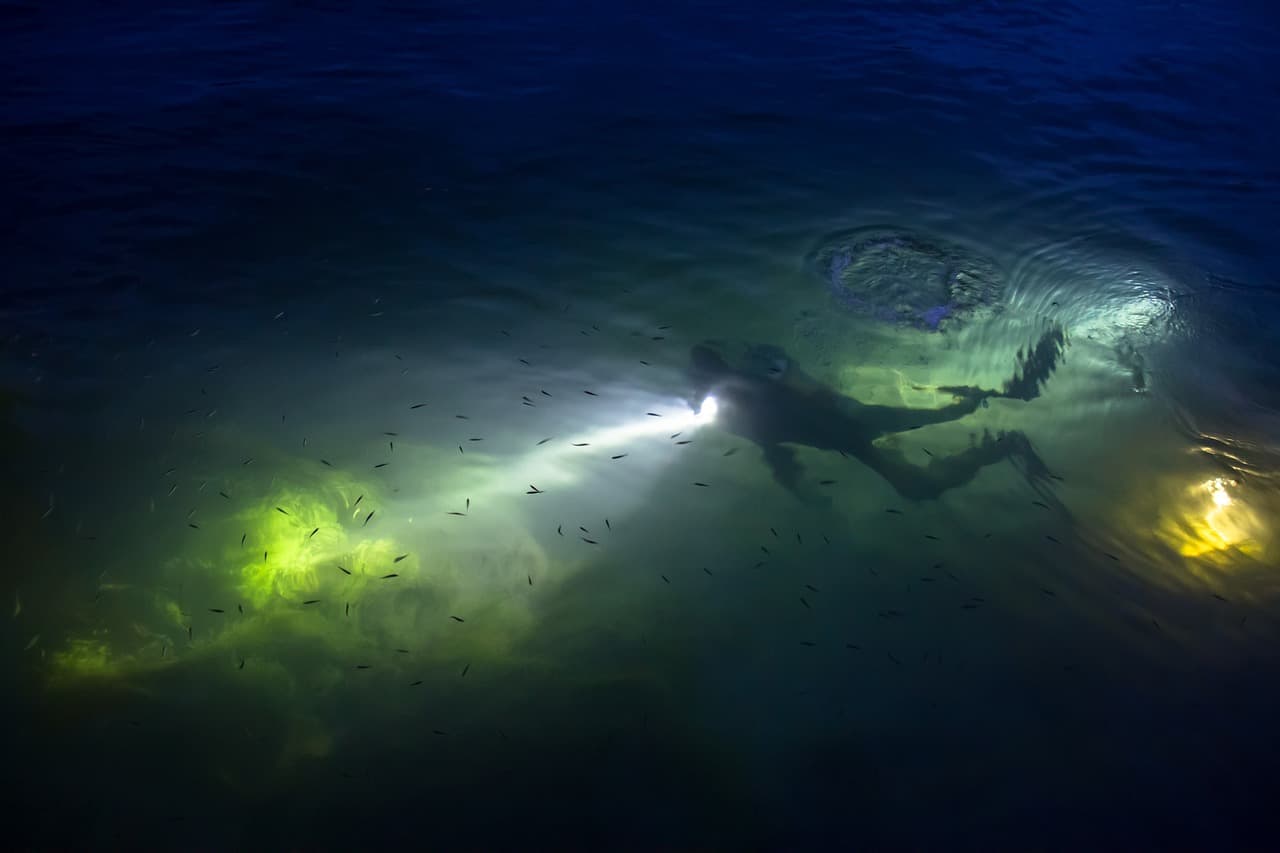 image via Pixabay
Night dives are a totally different experience from daytime dives and are a treat for any diver. Some marine life is nocturnal and there are fish that display different colors at night than they do during the day. When an ultraviolet light is shined on certain marine animals, it stimulates a florescent glow. Dive lights are available for rental and purchase. For the most experienced of night divers, one highlight of Bonaire is tiny crustaceans called Ostracods. A few days after the full moon, they take part in a brilliant bioluminescent mating display that surrounds divers in light.

Where to Rent or Purchase Diving Equipment
It is important to have proper equipment so that your Bonaire diving experience is safe and enjoyable. Gear is available for purchase or rental at the following locations. They also offer courses, guides, and more. If you have any questions, contact these establishments. If they are not able to give you an answer themselves, they will be able to tell you where you can find one.
Scuba Retail Stores
Dive Friends Bonaire
Bruce Bowker's Carib Inn Retail Store
VIP Diving
Flamingo Diving
Dive Rentals
Captain Don's Habitat
Divi Dive Bonaire
VIP Diving

Other Sights and Activities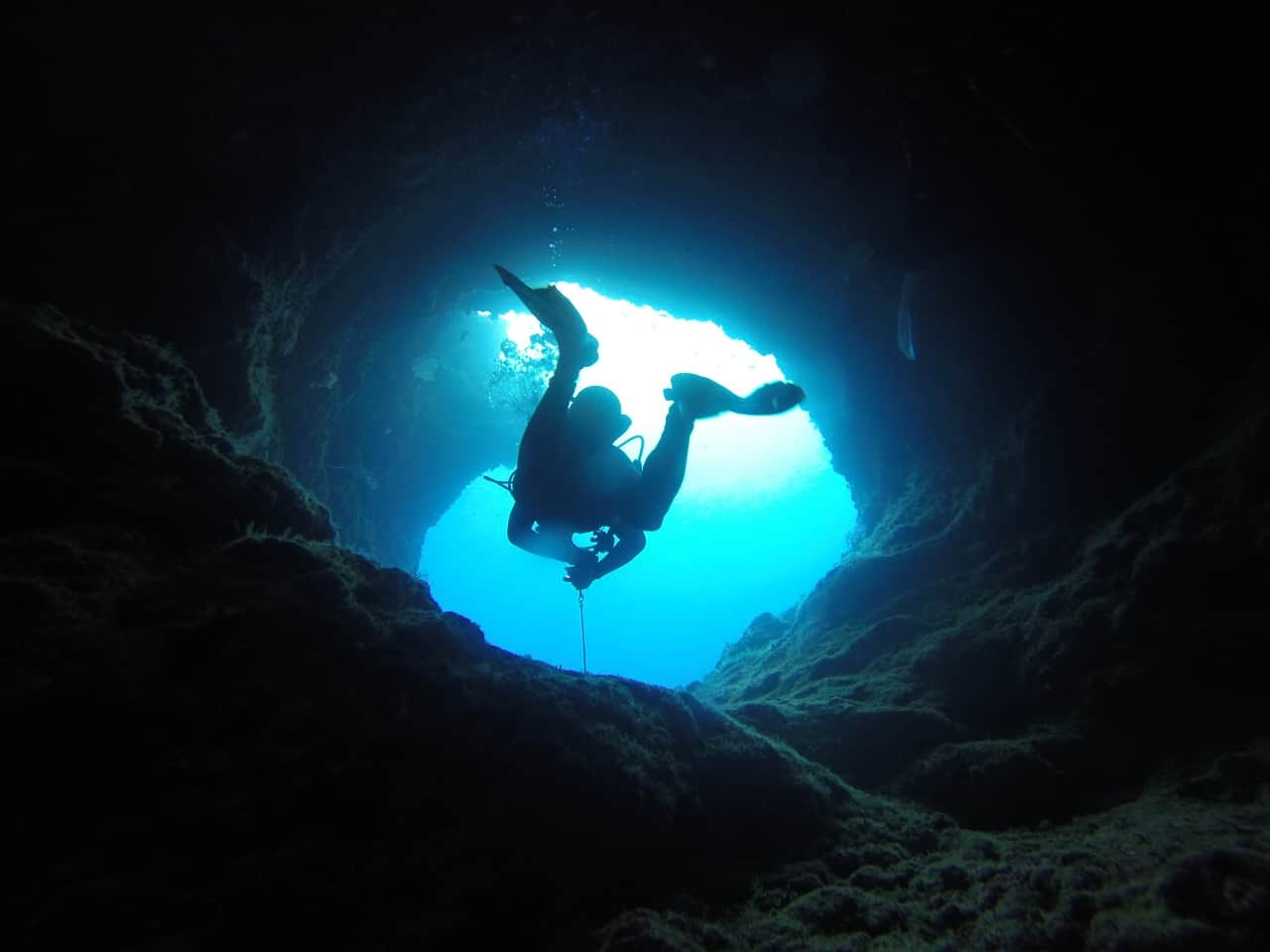 image via Pixabay
Aside from some of the best diving in the world, Bonaire offers travelers a variety of activities such as sailing, horseback riding, surfing and snorkeling. Visitors can rent a kayak or paddleboard and explore mangroves. They can try kite boarding, windsurfing or free diving
Caves
Bonaire is also home to a cave system consisting of an estimated four hundred caves. Some of these are open to guided tours and feature ancient formations of stalagmites and stalactites that formed over thousands of years. Others are filled with water and are not accessible. Select caves have small openings of water where visitors can snorkel.
The Donkey Sanctuary Bonaire
In 1993, two Dutch nationals opened the Donkey Sanctuary Bonaire. This offers a sheltered protected life to the donkeys of Bonaire. There are currently more than four hundred donkeys living in the sanctuary, where they are provided with food, water, medical care, as well as freedom and room to roam.

Conclusion
A trip to Bonaire has something to offer almost anyone, and there is plenty for visitors to enjoy when they are not diving. But the island is most famous for providing divers of all skill levels with a number of beautiful, varied sites.