*This post may contain affiliate links. As an Amazon Associate we earn from qualifying purchases.
Image from Unsplash
This article will review the 80 Cf Scuba Dive Tank Faber Blue Steel Hp 3442 psi New, a scuba tank made by Faber and sold in North America by Blue Steel. Faber, an Italian company, is a well-known and respected name in steel scuba-tank manufacture. We will look at this high-pressure steel tank made by Faber, and we will compare it to a few other similar tanks on the market.
About the 80 Cf Scuba Dive Tank Faber Blue Steel Hp 3442 psi New
Image Via unsplash
The Faber company is, as we said, located in Italy, and has built a reputation for making high-quality steel container-tanks for industry, fire-fighting, and for scuba-diving. Faber makes this 80 cubic-foot dive tank, and it is sold in the Western hemisphere by a company called Blue Steel.
The Faber Blue Steel Hp (high pressure) tank provides divers an alternative to the widely available diving standard aluminum-80. While aluminum is still in much greater use for diving than steel, more and more divers are choosing steel because of a number of advantages steel has over aluminum.
Before we look at the specifics of the 80 Cf Scuba Dive Tank Faber Blue Steel Hp 3442 psi New, let's take a look at the steel versus aluminum debate, and see why divers are choosing to include steel in their choice of scuba-diving gear.
Steel Versus Aluminum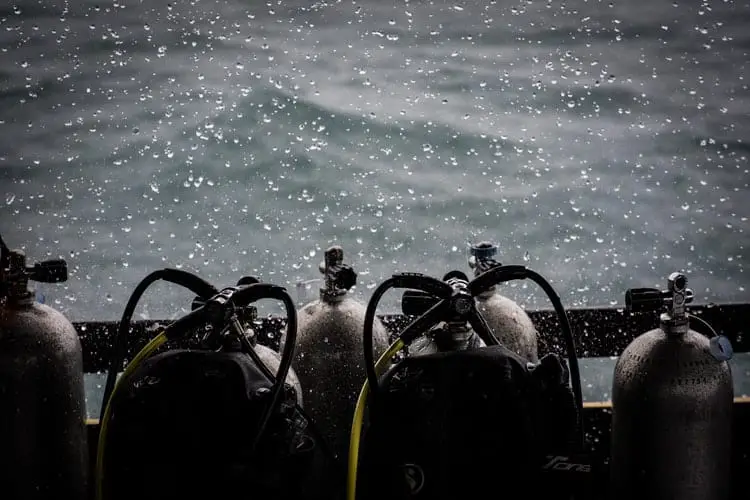 Image Via unsplash
For many years now, since the mid-1980s or so, the dominant material for making diving cylinders has been aluminum. Prior to that, steel tanks were the diving cylinder of choice.
Pros
Highly resistant to corrosion

Lighter in weight—which is good and bad (see below)

Less expensive than comparable steel tanks
Cons
Aluminum tanks create positive buoyancy as they empty

Aluminum tanks are susceptible to structural damage (dings and dents)

Aluminum tanks require thick tank walls to handle higher pressure
ALUMINUM
The key advantage most divers will see in going with aluminum tanks is their relatively low cost. Often, a diver can buy two aluminum tanks for the price of one steel tank. The industry standard for diving cylinders is the al-80 or aluminum tank with 80 cubic feet of air capacity, typically at 3000psi.
So, if aluminum tanks are less expensive and supply most divers what they need to get the job done, why would someone go to steel?
Pros
More durable than aluminum

Capable of higher-pressure, higher-capacity fills

Negatively buoyant throughout dive
Cons
More vulnerable to corrosion than aluminum tanks

Generally heavier than comparably sized aluminum tanks

More expensive than aluminum tanks
STEEL
The main advantage a steel tank supplies to a diver is that, because of the superior hardness, density, and durability of steel, it can handle higher air pressures and so more air capacity than a comparable amount of aluminum.
Why Is a High Pressure Tank Even Necessary?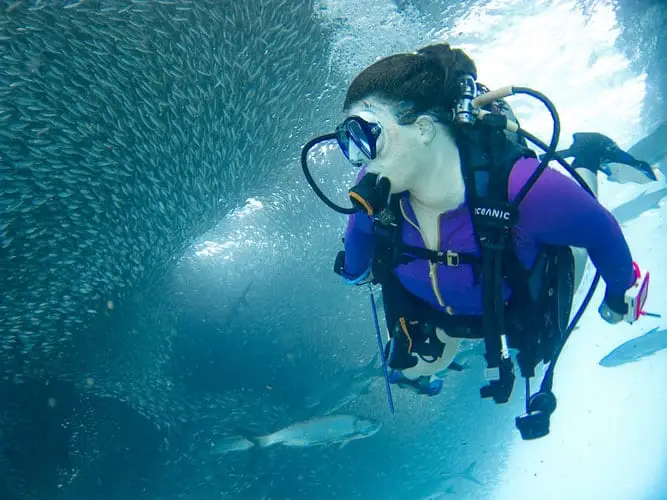 Image Via unsplash
Every scuba tank has an air capacity rating, and that rating gives a rough guide to how long a diver will be able to breathe on that amount of air. Variables to consider in such calculations include the experience and physical ability of the diver (how efficient a breather they are), the depth of the dive in question, and the physical demands of the dive—if you're doing more work you're going to breathe harder and use up your air more quickly.
So, let's say a diver needs more air than the standard 80 cubic feet—because that diver is physically larger than average or maybe is not as efficient in their breathing as more advanced divers or because, as we suggested above, a particular dive is going to be more physically demanding. Of course you could increase the size of a tank; keep it at standard pressures but just make the tank itself larger and so increasing its air capacity at that pressure.
It may be easy to see why that is not an attractive solution to the problem. More bulk is usually not a good thing for a diver to deal with. Alternatively, one could increase the air pressure in the same size or roughly the same size of tank and so increase the amount of air in the tank that way. That is when high-pressure steel tanks provide the solution the diver needs.
So Which Tanks Are Better?
Of course, this is a question often asked as if there is one clear answer, when so often in comparisons such as this, which depend on particular situations and personal needs. The only true best answer is: it depends. And that is what we intend to answer here.
If your diving never requires you to use a high-pressure tank, if you are not exposing your tanks to rugged use or environments (remembering that aluminum dings up more easily than steel), or if you are not particularly irritated by the positive buoyancy issues aluminum tanks can present to divers, then standard aluminum-80 tanks may be just fine for you all of the time.
On the other hand, if you need a higher-pressure, higher-capacity tank, if you need a tank that is more durable and will hold up to rugged use better than aluminum, and if you need a tank that retains negative-buoyancy throughout the dive, you may want to look at a steel tank alternative.
Product Specs 
[amazon box="B004E5J66G"]
The 80 Cf Scuba Dive Tank Faber Blue Steel Hp 3442 psi New offers divers a high-pressure steel tank, with 80 cubic feet of air under 3442 psi (237 bar) working pressure. The tank is 20.87 inches in length, and 7.24 inches in diameter. The tanks weigh 28.6 pounds (weight without valve and boot).
The Blue Steel F-X Series (which includes the tank we are reviewing in this article) is a DOT E-13488 specification; no overfilling is allowed. All F-X Series cylinders are oxygen cleaned and suitable for Nitrox use. Plus, the Faber Blue Steel Hp 3442psi, as you would expect with any high-pressure capable tank, comes ready for York or DIN regulator attachment.
Pricing
Pricing on this Faber Blue Steel diving tank ranges from around $240 to around $360. While not particularly cheap compared to some aluminum tanks, the Faber Blue Steel represents a good value as most steel tanks go.
How It Compares
We picked a few similar products available on the market to see how they compare.    
Catalina 80cf Alum Scuba Tank

IORMAN Universal 4500psi Carbon Fiber Paintball Air Tank

Sea Pearls 80 Aluminum Scuba Diving Air Tank 3000 PSI
[amazon box="B004E5J66G"]
Price

Around $240-$360

Features

The 80 Cf Scuba Dive Tank Faber Blue Steel Hp 3442 psi New offers good reliability in a durable, high-pressure steel tank. Divers will enjoy the ability to use either a DIN or Yoke-type regulator. The Faber Blue Steel provides negative buoyancy through the dive, enabling divers to reduce lead requirements from their weight belts.

Capacity

This tank provides standard capacity of 80 cubic feet in regular air or Nitrox.

Materials

Faber Blue Steel diving tanks are made from deep-drawn chromium molybdenum steel, providing the toughness and durability divers expect and need from a steel tank. As with all steel diving tanks, proper care and maintenance (protecting the tank from corrosion) will ensure a long useful life.
Pros
Steel construction is durable 

Negative buoyancy throughout dive

Yoke and DIN regulator capable
Cons
Corrosion more an issue than with aluminum

More expensive than comparable aluminum tanks
[amazon box="B00U1PTCU8″]
This is the standard aluminum diving tank (aluminum-80) the majority of divers have used for years and continue to use. This particular tank is low-cost, reliable, and works with Yoke or DIN regulators. Catalina has been making scuba tanks for about 30 years, and all Catalina tanks are made with North American sourced raw materials.
Price

Prices range from around $180-$240

Features

The Catalina aluminum-80 is the standard configuration diving tank. The hi-capacity pro-valve on this tank works with Yoke or DIN regulators, and the tank is Nitrox-ready up to 40%. Catalina construction standards provide on-site DOT (IIA) Inspections—dimensional, visual, hydrostatic, tensile & burst testing. Tank is positively buoyant.

Capacity

This tank offers 80 cubic feet of air (or Nitrox) at 3000psi. 

Materials

This tank is manufactured from high strength aluminum alloy 6061-T6. As with all aluminum tanks, the Catalina is resistant to corrosion, but it will present the diver with more durability issues over time than steel tanks, because aluminum is more vulnerable to dings and dents in rugged use especially.
Pros
Inexpensive

Industry standard

Resistant to corrosion
Cons
Durability not as good as steel

Positively buoyant
[amazon box="B01L6TM6WI"]
This is a SCBA tank, not specifically designed for underwater use, but the manufacturer still claims this tank is OK for "Scuba diving breathing" but also for refilling paint-ball tanks. Naturally, you would want to make sure any tank you got was new, and not an old paint-ball refiller tank. This tank offers aluminum alloy and carbon-fiber construction, providing it with excellent durability while still weighing less than comparable steel tanks.
Price

Around $430

Features

The IORMAN Universal tank provides between 66-88 cubic feet capacity under 3000-4500psi. The tank liner is aluminum alloy specially treated to ensure that the holding gas is clean and has no odor. The tank's construction makes it durable but lightweight, and the manufacturer claims a service life for this product of 15 years. We ding this slightly in the star rating because of the price.

Capacity

66-88 standard cubic feet at 3000-4500psi.

Materials

This is the area the IORMAN Universal stands out. The tank interior is AL6061 aluminum alloy liner. The tank exterior is constructed of full-wrapped carbon fiber and glass fiber winding that gives the tank excellent durability, while still offering the low-corrosive benefits of aluminum and weighing less than steel. External surface treatment is epoxy coated. High-strength features include creep resistance, shock resistance and corrosion resistance. The one caveat to buyers is that this is not a US or European constructed product so production standards for it might be less rigorous.
Pros
Excellent durability in a light-weight tank

Anti-corrosive features of aluminum
Cons
Expensive

Positive buoyancy as tank empties

Production standards might be an issue
[amazon box="B002EYMA8K"]
This industry-standard aluminum-80 tank offers a well-made, reliable, recreational scuba cylinder at a very affordable price. Nothing fancy, but plenty of tank for the beginning and average recreational diver.
Price

Around $160-$230

Features

This basic aluminum-80 tank comes with a K-valve, allowing standard yoke regulator connections. Adaptors for DIN regulators are available but cost extra.

Capacity

80 Cubic feet of air at 3000psi.

Materials

Again, this is a basic aluminum-alloy tank, an economical choice for beginner and average divers.
Pros
Very affordable tank

Corrosion-resistant aluminum
Cons
Not as durable as steel

Positive buoyancy as tank empties

K-Valve is not DIN compatible
​Conclusion
In this article we reviewed the 80 Cf Scuba Dive Tank Faber Blue Steel Hp 3442 psi New. We examined some of the main concerns any diver will need to consider when they make a choice of buying a tank. One of the main choices is whether to get an aluminum tank—usually cheaper—or a steel tank.
We compared the 80 Cf Scuba Dive Tank Faber Blue Steel Hp 3442 psi New to several other comparable diving cylinders. While all the tanks we reviewed had good points, from the perspective of performance and construction to price, the overall best tank in our comparison was the Faber Blue Steel high pressure tank, with a combined star rating of 4.8.