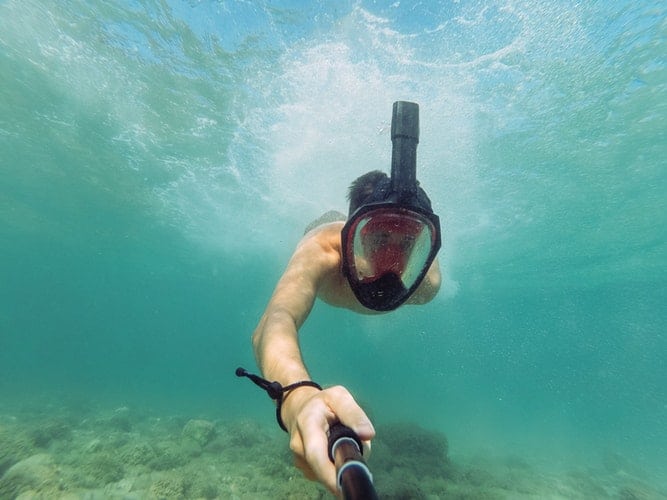 Swimming underwater alongside exotic fishes and turtles off the coast of an island is anyone's dream come true. To make it even more perfect, you need a snorkel mask that you can count on, and one that is not going to ruin your island vibes. In the following guide, we scoured the web to bring you ten full face snorkel masks that we think will make a great addition to your next vacation or staycation.
Product FAQ
What Is a Full Face Snorkel Mask?
What Does a Full Face Snorkel Mask Do?
How Do Full Face Snorkel Mask Work?
COMPARISON TABLE
How We Reviewed
The following products were reviewed based on their features, pros & cons, price, and the warranty offered. We reviewed these products based on these parameters because they speak volumes about the overall quality of the products,as well as suitability for different age groups and diving skill levels. For example, we have found that some snorkels are great for children and beginners, while a few of the other models are great for larger divers and seasoned snorkelers. We also talked with real people who have used these products to see how the masks performed in real-world conditions.
Overall Price Range of This Product (and Similar Products)​
Full face snorkel masks ranges in price on amazon. The higher priced models cost more because they are made with better materials and have more features. Some higher priced models are also newer versions of the product and come with accessories such as carrying pouches and ear plugs.
What We Reviewed
SeeReef Full Face Snorkel
Vaincre 180° Full Face Snorkel Mask
Greatever Snorkel Mask
TOPJUM Full Face Snorkel Mask
WildHorn Outfitters Seaview 180° GoPro Compatible Snorkel Mask
Tribord EasyBreath Full Face, Anti-Fog, Hypoallergenic Silicone Facial Lining Snorkeling Mask
SEABEAST AF90 Full Face Snorkel Mask
Ocean Reef Aria Full Face Snorkel Mask
OutdoorMaster 180° Snorkel Mask
HEAD Vu Dry Full Face Snorkeling Mask
---
The SeeReef Full Face Mask features high quality material and extra parts to give users the added security of long-term use. The mask's extra seals, for example, lets users repair their mask if the circumstance calls for it. The mask also comes with comfortable earplugs, a travel bag, and a four-valve system to prevent it from becoming foggy. The SeeReef Full Face Snorkel is 100% satisfaction guarantee.
The Vaincre 180° Full Face Mask is made with high-quality materials and anti-fog length to let users stay under water longer without the need to squint. The mask also features a GoPro mount so you can capture amazing memories hands-free. In addition, this mask is built with 180 degrees of panoramic view lenses that offer a high definition snorkeling experience. The new portable design is another feature that makes this mask stands out.
The Greatever Foldable 180° Panoramic View Full Face Snorkel Mask features a 180 degree viewing capability to deliver a stunning snorkeling experience for kids and adults alike. The mask has adjustable straps that are comfortable, secure, and easy to use. There is a detachable GoPro mount on the mask, and the lenses are anti-fog. The foldable design makes this mask easy to carry and store. This no non-sense snorkel mask is perfect for beginner and expert snorkelers.
The TOPJUM Full Face Snorkel Mask features a mask that is wider in diameter than the others on the market. With this design, users get more air and can enjoy a wider view capability. The foldable snorkel also makes it easy to store and carry. The mask also features a dual-action anti-fog system that is more advanced than the standard anti-fog technology used on most snorkel masks. The lens is also shatterproof and deflects sunlight. The detachable GoPro mount makes it ever so easy to capture your moments.
The Wildhorn Outfitters Seaview 180° GoPro Compatible Snorkel Mask features a full range of views for snorkelers and divers. The attached GoPro mount lets you capture beautiful images of the underwater world without the use of your hands. The mask is comfortable enough and durable enough for use for children. Its integrated dry snorkel technology seals the mask completely so that you can breathe easy and enjoy the ride. The mask also features anti-fog technology so you can snorkel longer.
The Tribord Easybreath Full Face Snorkeling Mask features 180 degrees of viewing capability so nothing obscures your vision during your snorkeling experience. With various sizes, this mask can fit small children as well as young adults. The lens is made with shatterproof polycarbonate material that is sturdy and long-lasting. The mask also includes an extra tall snorkel to allow users the opportunity to be closer to the seabed.
The Seabeast AF90 Full Face Snorkel Mask features hydrophilic anti-fog coating on its lens, which makes the mask long lasting and capable of weathering calm and rapid waters. The mask also features high-water absorbing so that it will not fog up. The flip style latches makes the mask easy to store and compact enough to be carried during your travels. A removable camera mount is also featured for all your video needs.
The Ocean Reef Aria Full Face Snorkel Mask features anti-fog lens and a detachable snorkel. The mask is versatile and lightweight. The lens allows for the largest field of vision compared to other full face snorkel masks on the market today. The seals ensure that no water gets into the mask so you can breathe easily and enjoy the wonders of going underwater. The mask comes in five sizes: extra small, small/medium, medium, medium/large, and large/extra large.
The Outdoor Master 180° Snorkel Mask features durable soft nylon head straps for top-of-the-line comfort in snorkel masks. The mask also features a wave guard to keep water from dripping down your lens. In addition, the mask's anti-fog technology eliminates the need to wipe your lens, so you can stay underwater longer. But, if water does get inside your mask, simply drain it with the built-in purge valve. This mask ranges in sizes and is perfect for everyone in your family.
The Head Sea Vu Dry Full Face Snorkeling Mask features full-face air circulation that lets you breathe comfortably without the fear of CO2 congestion. The anti-fog technology also ensures that your view is clear. The attached snorkel is sturdy and yet durable enough in rapid waters. The mask is also complete with high-quality silicone seals to prevent water from seeping into the mask.
The Verdict
After researching and looking at the five parameters of each product, we present our verdict for the best full face mask: the Tribord Easybreath Full Face Snorkeling Mask. This mask is not only great for children and beginner snorkelers, but is also great for adults and professionals, too. The anti-fog and secure lock technology on the mask are the best we've seen.
The mask is comfortable, leak-free, and can drain on its own to keep the snorkeler's face dry. Over are the days of gasping for air and having to be forced to resurface to breathe. In addition, the GoPro mount lets you capture unforgettable memories easily. With the Tribord Easybreath Full Face Snorkeling Mask, users have enjoyed hands-free and stress-free snorkeling experiences for everyone in their family. If you are looking to buy a snorkel mask for your next trip to paradise, look no further than this one.